Best of 2015, TV edition
Happy new Year! 2015 is finally making its way out the door, and I don't know about you, but I'm not too sorry to see it go, kind of the way I feel about house guests who've over stayed their welcome.
But there were definitely some good things about 2015, am I right? Remember this?
And this?
This was fun, too:
But what stood out most to me about 2015 was that it was a GREAT year for books, TV shows, and movies written by or about women.
That's definitely something to be remembered/celebrated!
So I'm going to list a few of the TV shows, movies and books that I enjoyed in 2015 – limited to what I can remember, obviously. I know I'm going to leave things out, and if I do, please tweet and let me know YOUR favorites, especially if there's something you saw that I missed and absolutely MUST see.
Of course since I can't fit all of them in one post, I'll be spreading the lists out a little over a few weeks.
TV Shows I Liked in 2015
(that I can remember)
This show about (and written by) two girls trying make their way in the big city has a cult following, and deservedly so, for pointing out all the weird things about life after college, especially in New York City.
If there's a star * by the title it means that HWSNBNITB watches it with me. He Who Shall Not Be Named In This Blog has a notable disinterest in creepy or dramatic shows. I, however, will apparently watch just about anything.
Not everyone likes every skit Amy does on her show, which makes it somewhat controversial, but as Mr. Bennet asked his daughter Lizzie in Jane Austen's Pride and Prejudice:
 "For what do we live, but to make sport for our neighbors, and laugh at them in our turn?"
Crazy Ex Girlfriend
A lot of people judged this new show on the CW by its title and didn't watch it, but that was a huge mistake. "It's more nuanced than that," the main character insists. And it is!
Check out the musical number below where "crazy" Rebecca (she's not "crazy," that's a pejorative term!) sings about how good she is at impressing other people's parents. (There's an "explicit" version that's even funnier, but you'll have to find that one on your own.)
https://www.youtube.com/watch?v=QLuFBEB3YC8
Unbreakable Kimmy Schmidt*
From the addictive theme song to the hilarious musical numbers, this Netflix hit about a girl who's been through unspeakable trauma trying to begin a new life is perfection. The humor might skew a little too satirical for some people, but I'm happy there's a second season coming.
UnReal 
We all know reality shows aren't "real" (though I for one sometimes try to trick myself into believing what I'm seeing wasn't at all set up by the producers).
Now, thanks to UnReal, Lifetime's scripted show about a "Bachelor-like" reality series, we know ALL the secrets. Its female creators (who have worked behind the scenes in television a long time – one of them is Marti Noxon of Buffy the Vampire Slayer fame) hold nothing back and I was riveted from Episode 1. This was one of the most extraordinarily entertaining, well-acted shows of 2015. Thank God it's been renewed for another season!
A Chef's Life*
The cook in my life forces me to watch this PBS show about a female chef who's moved back to her home town in South Carolina to raise a family and open her own restaurant . . . but I like it! Except that it's a reality show and, well, sometimes I wonder . . . see above.
KIDDING.
Chef/writer Vivian Howard's show is "disarmingly charming" acc. to HWSNBNIB and her food looks good, too.
River
This British detective drama on Netflix, written and created by Abi Morgan, killed me. DO NOT WATCH IT unless you've cleared your weekend because you'll want to binge the whole thing to find out "who done it." It – along with Happy Valley, which I've heard they're making Season 2 of right now! – could be my favorite detective dramas of all time.
You're The Worst*
https://www.youtube.com/watch?v=6wocbyBncJg
Kind of like "Crazy Ex Girlfriend," I think the title of this show is misleading. I feel like in Season 2 especially this became one of the smartest, warmest comedies on TV. The female characters in particular are depicted as being flawed, but still funny and strong, which makes them lovable and sympathetic.
And just when I was worried everything on this show might go in the darkest direction possible, the writers proved that maybe these characters aren't "the worst" after all…and that made me love the show even more.
Veep
This show has been around for a while but it only gets better every season.  And I don't just mean the swearing. If this show were a food and beverage, it would be a delicious salt-rimmed margarita with cheesy nachos, basically one of my favorites. Julia Louis Dreyfuss is who I want to be when I grow up!
Getting On
Am I the only person who watched this show (besides Buzzfeed)? Because it is one of my favorite shows of all time. Watching the characters on this show (who work in the "end stage" ward of a hospital) go at each other is like watching the duel between Hamilton and Burr (or so I imagine).
It's both tragic and amazing and you want them to stop but you also kind of want them to keep fighting forever which is why I'm so sorry this show is over.
The Affair
I know some people gave up on this show in Season 1 because the flashbacks were in such confusing order. Plus, I mean, it's totally ridiculous.
But if you stuck with it for Season 2 you'd have found out that:
a) The completely twisted murder mystery only gets twistier and THE BABY IS NOT WHOSE YOU THINK IT IS.
b) There's a cynical send up of the publishing industry that actually had me laughing out loud (oh yes! You can totally write that book in three months and it will be out by Christmas.* And yes, publicists TOTALLY do that thing. ALL THE TIME.  HA HA HA no.)
c) The wife – Maura Tierney – could NOT be more different than the character she was in Season 1, and it's brilliant and I want her to win every award.
*You can if you're Trumbo.  You can write Spartacus in 3 days in the bathtub while drinking.
Penny Dreadful
Like The Affair, this show turned everything around, so characters you thought were one thing – cough, Billie Piper – in Season 1 turned out to be something else entirely in Season 2. And I loved it.
Game of Thrones
I watch this show because I also read the books and I'm interested to see what happens next. I know some people are upset by the fact that occasionally characters get killed off (or abused) in nasty ways, but I think there's so much senseless death and violence in real life that we NEED stories like this – where we get to see a character's ill treatment avenged later. Because that so rarely happens in reality!
As long as the violence works in the context of the story, it doesn't bother me.
And we need to know what happens to the mother of dragons! And to Arya and Sansa Stark, of course.
You guys know I was invited to George RR Martin's indie theater in February to chat about Remembrance, right?
Black-ish *
Diane. Her mom, Bow.  But Diane. OMG DIANE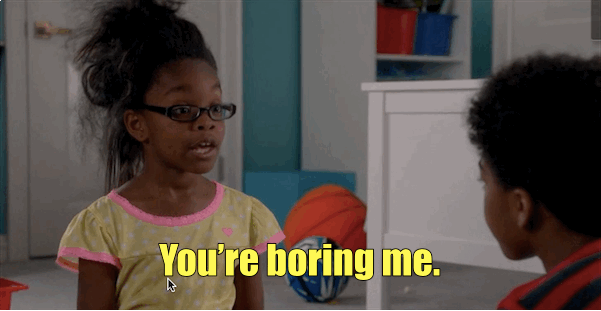 Brooklyn 99*
This is pretty much one of the best comedic ensemble shows ever. Thank God we have it to fill the hole in our hearts left by Parks and Rec.  The female characters on this show are AMAZING. I've watched all of Chelsea Peretti's stand up and I want to be Rosa.
But honestly it's Terry Crews who is my favorite. Whenever I begin to succumb to mean world syndrome I watch this and snap out of it.
Lizzie Borden Chronicles
Lifetime! Again! What's up with you Lifetime??? If you want to watch a woman slowly realize she can get away with killing all the terrible people in her town to make it a better place, then this is the show for you.  Don't be mean to your dog around Lizzie!
Downton Abby*
It all ends next month! It will be hard to say goodbye but I'm so thankful to the Dowager for bringing us so many put downs..
Call the Midwife
These nuns and nurses are still adorable while delivering babies in sometimes sad and controversial circumstances and oh! That Christmas special!
Of course there are many more shows I want to gush about, but I've forgotten them (I'm sure you'll help me out)
Besides, I've run out of time.  I've got to finish the drawings for Notebooks from a Middle School Princess #2, Royal Wedding Disaster. Freelance writers/illustrators don't get holidays off when they have deadlines.
But I WILL stop later on tonight for a few glasses of champagne, to toast the New Year!
Join me back here next week year for my "Favorite Books of 2015″ and Favorite Movies of 2015."
I hope everyone's holidays are amazing and that 2016 brings nothing but joy!
Remember – be safe  . . .  be happy  . . . but most of all, be yourself!
More later.
Much love,
Meg