Meg Cabot Day/Reader Mail
It's the end of July, and as many of you know, July 31 is Meg Cabot Day (as declared by the mayor of my city of birth, Bloomington, Indiana).
On Meg Cabot Day, everyone is encouraged to do their favorite things (so long as they're legal).
My favorite legal things to do are writing, hanging around in the sun on or near a body of water, and reading a book (while staying well hydrated with a beverage of your choice).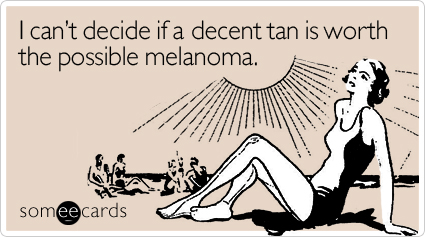 Don't be a dork…use sunscreen!
In honor of Meg Cabot Day, I'm giving away Keep Calm and Cabot On Swag (see photo below) as well as autographed copies of my new book, Awaken! To win, post a photo of yourself with your collection of Meg Cabot books on Twitter or Facebook. I'll choose winners at random.
I'm also opening up my mail bag (really now it's more of a Twitter and Facebook bag) and answering some of your many questions (many of which are also answered here). As always, I've changed the sender's names slightly to protect their anonymity and help them avoid possible public humiliation:
From Mortified:
Dear Meg,

During the last week of school before summer break, I texted this boy that I like him. He never replied. Now when I see him around town, he points and laughs at me with his friends. I'm pretty sure he's shown everyone my text. I'm so embarrassed, I'm having nightmares about going back to school where I'm going to have to see him every day. What can I do?

Signed, Mortified
Dear Mortified,
Believe it or not, we've all been there. And you're not the one who should be mortified, HE should. A gentleman would not only have replied, but also kept the information about your admission to himself.
However, as the great Jane Austen points out in her many novels, we can't always count on boys behaving in a gentlemanly manner, which is why it's generally better never to put our intimate feelings in writing until we know they are returned.
(Also, though Jane Austen never mentioned this, never send intimate photos of yourself to ANYONE for ANY reason.)

Liar.
What's done is done, however, and this uncouth lout isn't worth worrying about for a second longer. When you return to school in the fall, you're going to act like a gentleman (or lady. Whichever you prefer). That means being distantly polite to this cowardly worm. Throw yourself into every extracurricular activity you possibly can (that you enjoy, and that he doesn't participate in). This way you will meet new people, well outside his social sphere. You will be too busy (and having too much fun) to think about him.
What generally happens in these types of cases is that he will come crawling back to you (because like many foolish lads, he craves attention, and you are not giving him any). Please tell him politely but firmly that you are sorry, but you have moved on.
And once you realize that nightmares are actually good things — scientifically proven to be your subconscious trying to help you out by rehearsing possible scenarios it thinks could occur — they will stop being seeming so bad.
So soon that jerk, like your nightmares, is going to fade away, and you will live to love again, hopefully more wisely.

From Iluvgeeks:
Dear Meg,

I'm bored. My mom says I'm too young to get a summer job, and camp is over. What can I do until school starts?
Dear Iluvgeeks,
Obviously, you should grab some books and head to the pool or beach (or your backyard hammock. Don't forget the bug spray, lyme disease is at an all time high). You can find books at your local library (or bookstore or shopping center. Often they are available online, and also at Target and Wal-Mart). Here are some books I recommend:
Awaken, the last book in the Abandon series! It came out July 2 (you can read all about it here, plus check out some sneak peeks and fun extras, like the playlist I listened to while writing it, etc). You can read the whole series in order now (if you haven't already).
A book I've enjoyed reading this summer is Annie Choi's SHUT UP, YOU'RE WELCOME: Thoughts on Life, Death and Other Inconveniences.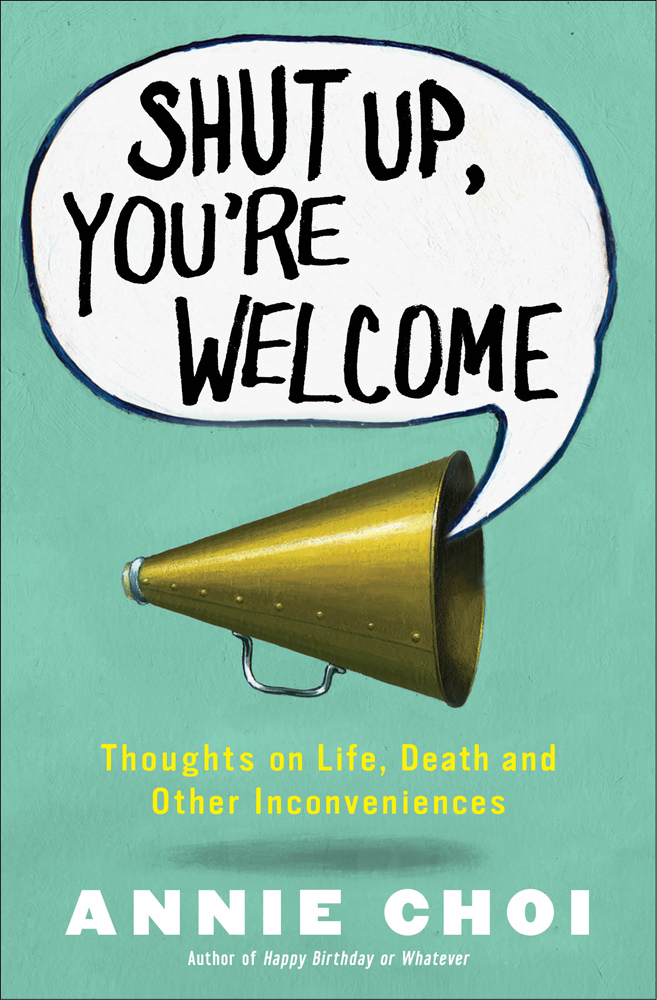 Annie may be most well known for her satiric "Dear Architects" letter printed in Princeton University's Pidgin Magazine, but everything she writes seems to be comedy gold. Here's a book trailer about Shut Up:
[youtube]http://www.youtube.com/watch?v=Ml3gkB1s2QQ&feature=player_embedded[/youtube]
I also have a story out in a just-released fairy tale anthology for readers in Brazil! My story is called The Model and the Monster. It's a modern re-telling of "Beauty and the Beast."
Of course you'll have to learn Brazilian Portuguese in order to read it, but fortunately you've got plenty of free time.
Finally, since you're so bored, take this survey. At the end of it, you'll be rewarded with a sneak peek of the latest entry into my Heather Wells series, THE BRIDE WORE SIZE 12. The book won't be out until September 24, so this is your big chance to find out something none of your friends know yet.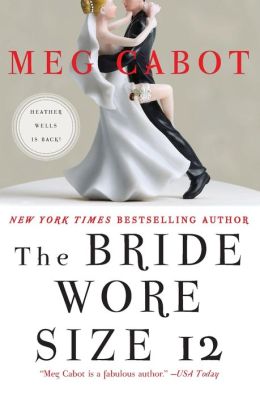 From Outtatime:
Dear Meg: I hate all my clothes. What's something cute I can wear to school when it starts in the fall?
Dear Outtatime,
Are you kidding me? Did you not read what I wrote at the beginning of this blog about the contest to win free swag for Meg Cabot Day? All you need to do is post some photos of yourself holding some of my books, or go the Meg Cabot Store and stock up! You will look adorbs.
From LiveLongandProsper:
So last year at school my best friends were all in the same homeroom. I was in the other one. I maybe had two classes with them! Now they all have in side jokes and are super close. I am worried I will feel left out this year. What should I do?
Dear LiveLongandProsper:
I'm so sorry this happened to you! Sometimes our best girlfriends can hurt us even more than uncouth boys can. For proof, watch any reality show featuring housewives, or read my books featuring Allie Finkle (it all starts in fourth grade).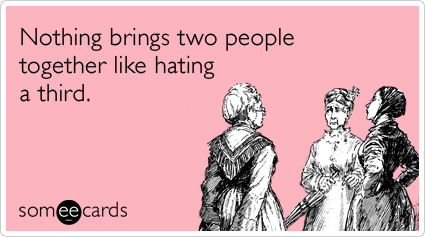 I would definitely try talking to your best friends about how you feel. Maybe they honestly don't realize that you feel left out, and would try harder to include you if they knew how you felt.
If that doesn't work, then maybe it's time to try making some new friends in your own homeroom. You know the old song from Girl Scouts:
Make new friends, but keep the old—one is silver, but the other gold!
Now go out there and make some new friends (but keep the old).
From WriterGirl:
Dear Meg,

I was wondering whether you have writer's block often. I write fan-fiction and I know that others who do so too often have writer's block. I think you mentioned to put it aside first and it will eventually come back, but I was wondering: What if it never does? Does that happen to you?
Dear WriterGirl,
Of course I've experienced writer's block. Like most writers, it happens every time I write a book!
But I've never suffered from permanent writer's block, because unlike with fan fiction, I make up my own characters and the worlds they live in when I'm writing. Though it might take a while, eventually – no matter what disaster I've thrown them into – I know I will manage to get my characters out of it, because I created them, the disaster they are in, and the entire world in which they exist, so somewhere in my subconscious is the answer.
The problem with writing fan fiction (I know, because I used to write Star Wars fan fiction for fun) is that those characters and that world were created by someone else. The answers lie in the original author's subconscious, not yours.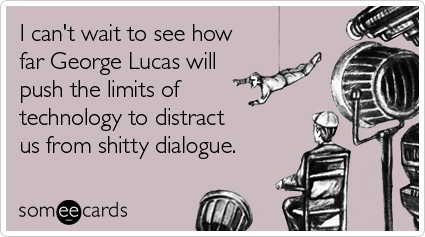 George, you know we love you.
So I believe it IS possible to develop permanent writer's block while working on a piece of fan fiction, because you did not create those characters or those worlds. Someone else did. Familiar as you and all the fans might be with its characters and its world, you don't have all the answers. No one but the original author does. You are limited by the information you've been given by the story canon so far. This can be creatively stifling.
So the solution to that kind of writer's block is to free yourself of the bonds of some other author's world, and invent your own.
Hope that helps!
From RoyalWatcher:
Dear Meg:

What does Princess Mia think of Prince William and Duchess Kate's new royal baby?
Dear Royal Watcher:
She's so excited! Didn't you see her royal message on Twitter?
Well, that's it for now. As always, thanks for reading, and Happy Meg Cabot Day!
More later.
Much love,
Meg