25 Things You Don't Know About Me
1. I'm left handed.
2. In order to correct a speech impediment, I was taken out of class a few times a week during elementary school to visit a speech and hearing specialist (just like in the movie The King's Speech. Except I was never in line to inherit a throne).
When I'd come back to class, some of the other kids would tease me, calling me a "dummy" who had to go to "special ed." (Sadly that's as creative as they got.)
3. I often wrote about my dislike for those kids in my diaries.
4. I kept all those diaries, and routinely insert scenes from them into the novels I now write as an adult. Many of those novels have gone on to become bestselling books (click here for a list of them), as well as movies and TV shows. They've become part of mainstream pop culture in ways that can be surprising.
5. The kids from elementary school who teased me about being a dummy are super nice to me now.
6. A quote of which I'm often reminded is from a favorite book of mine, Jane Austen's Pride and Prejudice:
"For what do we live, but to make sport for our neighbors, then laugh at them in our turn?"
But I do not make sport of my neighbors. Except the ones who used to call me a dummy.
7. To see quotes from my own books, visit my Tumblr: Things My Characters Say.
If you have some favorite quotes from my books, submit them via Twitter and Facebook with the hashtag #megcabotsays. Maybe we'll post them!
8. My husband (also known as He Who Shall Not Be Named In This Blog) is left-handed, too.
9. Our cat, Slutty-McSlut-A-Lot (real name: Gem, because according to HWSNBNITB, she is a precious jewel) is not left handed, but she will not come when called, leading us to believe she is either deaf or highly disdainful of humans.
10. If you'd like to see pictures of Gem, you'll find a few on my Instagram account here.
11. You will not find any photos of He Who Shall Not Be Named In This Blog, however, because he asked me ten years ago (when I first started keeping this blog) never to write about or post photos of him because he thinks social media networking is weird, and we are all going to regret posting so much personal information about ourselves online.
12. He could be right.
13. April 1st, 2013 will be my 20th wedding anniversary with HWSNBNITB.
14. We eloped on April Fools Day because HWSNBNITB thinks only fools get married.
15. He could be right.
16. We eloped to a small village in northern Italy called Diano San Pietro.
17. When the mayor of Diano San Pietro found out we wanted to get married on April Fools Day, he thought we were playing a joke on him and wouldn't perform the ceremony. He said (in Italian):
"Why can't you go back to the US and get married in Las Vegas like normal Americans?"
18. We had to get local villagers to help convince the mayor that we were serious. He finally agreed to marry us, but only if we donated 50,000 lira to the local "children's fund."
19. When the mayor showed up to the ceremony, he was wearing his soccer coaching uniform because he didn't think we'd really be there. Only when he saw me in my wedding "dress" did he quickly change into a suit and tie.
20. If you want to read more about our Italian elopement, you can read the slightly fictionalized account I wrote in my book, "Every Boy's Got One".
21. A good adult book I've enjoyed reading lately is Donna Thorland's The Turncoat
"A combination of historical espionage and smoldering romance, Thorland's first novel is a surprising and engrossing tale. Immersing the reader in 1777 Philadelphia, sweeping from decadent high-society balls to the filth of battlefield infirmaries, Thorland exhibits real passion for the time period. Fans of Philippa Gregory and Loretta Chase will find The Turncoat a thrilling read." –Booklist
Watch the book trailer (one of the best I've ever seen):
[youtube]http://www.youtube.com/watch?v=4506zetdCjY[/youtube]
22. I won't have a new adult book coming out until September 2013: the 5th installment in the Heather Wells mystery series Size 12 is the New Black.
23. My next YA book is the final book in a paranormal series Abandon, about a teen girl who gets kidnapped by the lord of the underworld and taken to live with him in the dark realm of the dead. It will be out in July 2013.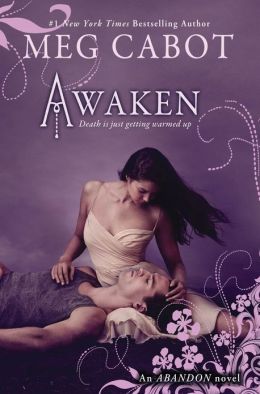 In the myth of Persephone, the heroine can't come out of the underworld until spring.
24. Spring was my least favorite season when I was a teen, because I always made it a point to hate everything that was popular (maybe because it was the popular kids who called me a dummy when I had to go to Speech and Hearing classes). When I was 13, I did not like pizza, top forty music, YA, other kids, flowers, unicorns, koala bears, and I most definitely would not have liked books by Meg Cabot.
25. Now that I'm an adult, I realize that things – including most people – are not as bad as I used to think.
Most popular things, as a matter of fact, become popular for a reason: they're nice and make you feel good, so it's OK to let down your guard and like them (once you're done making sport of them).
More later.
Much love,
Meg