Best of 2012
Best of 2012
I can't believe the holiday season has already snuck up on us. I'm not prepared at all! Although it was nice to get that extra week in this year between Thanksgiving and the alleged Mayan Apocalypse, so at least I got to catch up on all the books I'm late turning in.*
(*This line thrown in for any of my editors reading this. Also, according to the many Mayans I know —for real— the apocalypse is not really going to happen, so we need to stop using this as an excuse for stuff.)
Anyway, if you're feeling just as harried as I am, you're probably thrilled by all the "Best Of 2012" lists suddenly appearing everywhere. They make holiday shopping a little easier. I find those lists so helpful, I've pulled one together for all of you.*
*Special Note: Some of these things came out prior to 2012, and some of them aren't necessarily things you can actually buy, they're just things I like, so I threw them onto the list anyway.
Meg Cabot's Best* of 2012:
*Before you write to tell me all the "Best" things I missed, remember the word "best" is subjective. In this case, "Best" simply means something I found enjoyable and thought you might, too. I know there are many things I left out. I could not possibly list ALL the "Best" things or this post would be 2,000,000 words long.
Best DVD/Book Set:
The book/DVD combo of PBS's CALL THE MIDWIFE – Jennifer Worth


This book was already a bestseller in England before it was turned into a hit TV series. Now it's turned into a surprise hit in the US that all my friends were bugging me to watch on PBS. So I did, and I LOVED it.
Follow the adventures, romances, and incredible pluck of these spunky midwives in 1950s East London. Yes, you will also want to read the bestselling memoirs by Jennifer Worth (Nurse Jenny Lee!) that the show was based on. I'm reading them now and they're as addictive (and yet heart breaking) as the show. Here's a clip from the show:
[youtube]http://www.youtube.com/watch?v=aVfdZevxf_o[/youtube]
Best Makeup:
Red Lipstick, any kind
Whose idea was it to make wearing red lipstick, 1940s style, stylish again? I don't know but I LOVE it.
I first started noticing red lipstick on Amber (Mae Whitman) on the excellent TV show Parenthood (LOVE this show). Then I noticed Zooey Deschanel was doing it on The New Girl (LOVE this show too). Now I'm seeing it everywhere.
Cheerful and fun and a great way to say, "Mayan Apocalypse? I'm not afraid of you!"
Best Movie:
Silver Linings Playbook
If you haven't seen this movie, run out and see it right away. I know you've heard it's about Bradley Cooper being released from a mental institution after beating up the man he finds making out with his wife in their shower, but I promise it's hilarious, and you'll love the ending.
It's not often you come out of a movie feeling really good and ALSO like you just saw a movie about people you actually know (except no one I actually know looks like Bradley Cooper or Jennifer Lawrence) but that's how you'll feel after seeing this movie.
[youtube]http://www.youtube.com/watch?v=Lj5_FhLaaQQ[/youtube]
Best Graphic Novel:
Unlovable: The Complete Collection by Esther Pearl Watson

I stumbled across these books because I subscribe to BUST Magazine, mainly because I've always liked the running comic at the end written and illustrated by Esther Pearl Watson.
Unlovable, set in the 1980s, is about a high school sophomore named Tammy who doesn't let anything get her down for long. Tammy always champions the underdog without seeming to realize she herself is the biggest underdog around.
I think this book set would make an amazing gift for anyone, any age (well, probably ages 14 and up). These VERY funny books may be called Unlovable, but I adore them (especially Volume Two. Seriously, people, I cried. I keep both these books on my living room coffee table, as they have lovely, sparkly covers).
*Special note: I ordered my second copy from Fantagraphicsand it came with a free signed bookplate from the artist/author. Nice!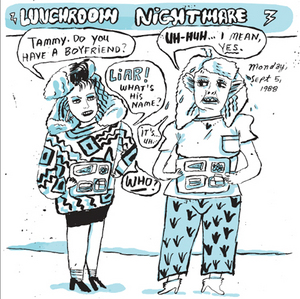 Best Dance:
Gangnam Style
Don't groan. You know you love it! Every time you see a grown man doing the horsey dance, you get a little smile on your face.
My personal favorite gangnam dance video is not the original, but the US Naval Academy's version, and not just because it was filmed in Annapolis, where my mom lives (and where I just visited for Thanksgiving) and where my book Avalon High is set.
It's my favorite because it encompasses everything that I love about America: having fun at work, cute guys dancing (in uniform), canons, and boat marinas. (But you know we can get the job done when we need to! Then we all have a beer.)
[youtube]http://www.youtube.com/watch?v=xhHufV9g4k4&feature=player_embedded[/youtube]
Best Cookies: (available in a grocery store)
Tate's Bake Shop
I have celiac disease which means that I can't eat anything with wheat, barley, or rye in it. Luckily, I have a fantastic baker friend here in Key West named Jimi who makes the most incredible gluten-free cookies you've ever tasted!
But this year I randomly discovered the SECOND best gluten free cookies I've ever tasted (besides Jimi's), and you can actually buy them in just about any grocery store, so I thought I'd share: Tate's Bake Shop cookies.
They come in gluten-free and non-gluten varieties, and the gluten free chocolate chip ones taste JUST LIKE REAL CHOCOLATE CHIP COOKIES (not as good as Jimi's, but still really, really good).
They also won some awards.
(I seriously DON'T get free products or money to endorse stuff in my blog – that would be weird considering I am well paid for my job – plus this blog doesn't get enough hits for anyone to notice when I endorse stuff. I just thought I should mention that. Plus I still haven't lost my Halloween candy weight. I'm saying all this because I had a brief fantasy that a giant box of free Tate's cookies might arrive at my door, but this will never happen and if it did it would NOT be a good thing. So I need to get this fantasy out of my head.)
Best Website of the Year:
Click here. If you don't know who it is, you're not watching the Best TV Show on Television.
(Okay, people who don't know what that is, it is Ron Swanson from Parks and Rec. And Ron Swanson doesn't normally act like that, that is why it's funny.)
Best YouTube Video to Annoy Your Family: (in case you haven't seen it already)
Baby Monkey Riding Backwards on a Pig
[youtube]http://www.youtube.com/watch?v=5_sfnQDr1-o[/youtube]
(I know this video came out in 2011 but someone just sent it to me in 2012. And it doesn't annoy me, I actually love it.)
Best Use of the Word "Poop" in a Children's Toy Commercial:
The Orbeez LadyBug Scooper RC (this is in no way an endorsement of this product)
[youtube]http://www.youtube.com/watch?v=ih73NbSyA-8[/youtube]
Best Gift for Him that He will Never Use:
Chewbaca cuff links, available at Neiman Marcus for $125.
Best Gift for Her that She Will Totally Use But No One Ever Gets For Her So She Has To Buy It For Herself Every Year:
Jo Malone Grapefruit Body Cream. It's so luxurious and smells so good and they have done studies that when people wear grapefruit scent, they are perceived as being healthier and looking slimmer. I am not making this up.
Best Projects Created by People I Know (That I Can Think Of Right Now):
This video is by my friend who went through Hurricane Sandy
[vimeo]http://vimeo.com/53308779[/vimeo]
This is a movement to bail out the people – NOT banks. It's called Rolling Jubilee, and it's gaining momentum and getting a lot of press. It's pretty neat. Check it out:
[youtube]http://www.youtube.com/watch?v=1Qs9w1XlJKE[/youtube]
Best YA Books
Here are some of the best YA books that came out (or are coming) out in 2012. Obviously I couldn't possibly list all the ones I read, but here are the ones that stick out in my memory:
The Girl In The Park by Mariah Fredericks
I've loved all of Mariah's other books, so it was no surprise to me that this one rocked. As a mystery set in NYC, it had that irresistible Law and Order flavor, except that it was a YA set in an NYC prep school, so it was sort of Gossip Girly. Delicious.
Here's a fanmade trailer of the book, which I find particularly amazing because it not only sums up the book perfectly, it includes scenes from the movie Clueless.
[youtube]http://www.youtube.com/watch?v=fCa-J_XWWRI[/youtube]
52 Reasons to Hate My Father by Jessica Brody
52 Reasons is a book about a rich, spoiled heiress who has to spend 52 weeks doing minimum wage jobs her dad picks out for her before she can access her inheritance.
This is a fun, quick read that has everything you could want in the "spoiled rich girl gets her well deserved comeuppance" vein, plus a little something more . . . maybe the rich girl isn't so bad after all? Plus the book trailer, though not fan made, is really funny.
[youtube]http://www.youtube.com/watch?v=YjWYB327yHc[/youtube]
Ghost Flower by Michele Jaffe
I talk to Michele Jaffe almost every day but I didn't know that not only was her book Ghost Flower an RT Top Pick that won the RT Seal of Excellence for the month of May 2012, it is ALSO a Best 2012 Young Adult Contemporary Novel Nominee and a Best 2012 Book of the Year Nominee. Not that I'm surprised, since I read and loved it, as did everyone on Goodreads, it's just that of course Michele never said a word to me about winning all these awards, which is so like her.
If you like a good mystery (with a paranormal romantic element), you'll love Ghost Flower.
KISS ME AGAIN by Rachel Vail
Rachel Vail is another person who never says a word to me when her books win awards (like her middle grade book, Justin Case, won the 2011 Kiddo Award from JAMES PATTERSON himself. But did she tell me? No). She didn't even tell me KISS ME AGAIN is coming out this month! WHAT??!!!
KISS ME AGAIN is the sequel to IF WE KISSED (which I adored). KISS ME AGAIN asks the immortal question, "What if the boy you were crushing on became your STEPBROTHER?"
Oh. My. God. Everything really does go back to Clueless.
How much do you want to read this book now? I can't wait to get my hands on it!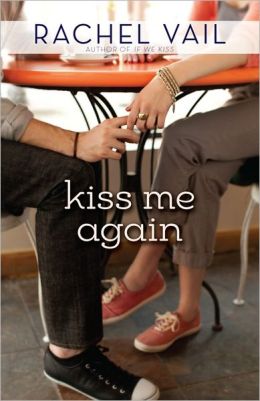 Best Cover of the Abandon Series
Awaken
I know it's wrong to give myself a "Best Of" award but I had very little to do with this one, it goes to my publisher and, though some of you may not know it, to YOU! A lot of you have already seen this, since it's been up for a while on Goodreads, Amazon, and the Scholastic website, and many of you have been asking for details. So here it is, details below:
–The girl and guy depicted on it are Pierce and John.
–The girl is the same model who played Pierce on both the Abandon and Underworld covers. Isn't she lovely?
–The pose was my idea (all the poses have been my idea. I like the narrative progression the images tell on the covers . . . on the first cover the girl is dead, on the second she is escaping, and now finally she's alive, but she must save the boy from dying. It's nice to have a dead boy on a book cover for a change. But is he really dead? Or will she be able to help him awaken?)
–YOU picked out the male model. (I had a hard time narrowing it down from all the photos of cute male models they sent me, so I sent a select number of YOU emergency emails asking for help choosing – after I'd narrowed it down to about 10 guys. YOU picked this one. We approved. You also wrote back some of the most hilarious responses I've ever seen, such as: "This is the best email I've EVER gotten!" and "Thanks for making my day!!!" You guys rock. Thanks for always being there for me).
—This is not the final cover. The tagline is obviously not, "Death has her in his clutches." Etc.
–When you fold it out the full cover, you see all of John's body. I'll post a link to that image later, when the cover is finalized.
Here are some stills from the shoot:
Aren't they a sweet couple? In my imagination the models are now dating in real life and have a labradoodle. Do not disenchant me, reality!
I'm excited for you to read Awaken, but it's still in the editing process. I blame the fact that I got this gorgeous cover before I was done with the book, and that made me keep going back and revising to make sure the prose was just as lovely.
But I swear it will be worth it!
Have a very happy Hanukah, merry Christmas, and AMAZING New Year! And remember not to count on that Mayan apocalypse, since none of the Mayans who exist today really believe the world is ending on December 21. So get your holiday shopping done!
More later.
Much love,
Meg