Letters from Friends and Fans
I get a lot of mail. Here are some letters* I've received, as well as my responses.
*All of these letters are guaranteed real. Only some of the names have been changed to protect the identity of the senders.
Dear Meg:

Hi. I hop you have a nais Halloween. What are you goin to be? Im goin to be Allie Finkle for xtra credit in my school.

Frum Lauren
Dear Lauren,
Thank you for your thoughtful letter. I hope you have a nice Halloween as well. I'm pleased you've chosen to be one of my characters. Couldn't we all use a little extra credit?
In answer to your question, for Halloween I plan to be a Honey Badger.
Apparently a million other people also plan to be honey badgers this year. This is fine with me as, like the honey badger, I don't care.
In case you need inspiration for your costume, the first two books in the Allie Finkle series have been re-released in France with adorable new covers, as well as funny cartoon illustrations, which is a fantastic idea, in my opinion. Here's what they look like:
I love reading Allie's rules in French, including this VERY important rule.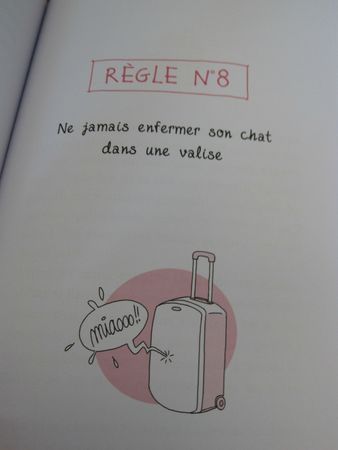 Don't Put Your Cat In A Suitcase.
Dear Meg,

I'm doing a report on you. Where can I find out how many awards you won or whatever?

Crystal
Dear Crystal,
Thanks for writing to me. I think more people should be named Crystal these days, don't you?
You can find out all about what awards I've won on my Wikipedia page. But since I understand many teachers frown on using Wikipedia (although personally I think it should be all right if you back it up with a secondary source), you can also go to the Who She Is section of my website and click the links there, including the new one, Meg in the News. Unfortunately, many of the awards my books have won are listed on the individual book's webpages, because that's the way I roll.
An honor I'm very excited about is that the first book in my latest paranormal series for teens, Abandon, was recently voted one of the 2012 Top Ten books for teens, according to the Young Adult Library Services Association.
I'd like to give special thanks to Faythe Arredondo, who wrote about Abandon's selection here, and mentioned that my books are one of the reasons she became a youth librarian. Of course you don't have to put that in your report, since it isn't really an award, but whenever I read it, it feels like one!
Hey Meg, I follow you on Twitter. Thanks for the followback!

So I'm going to do Nanowrimo this year. Are you? And if you are, what will you be working on?

MediatorFan
Dear MediatorFan,
You're welcome for the follow back. In answer to your question, yes, I will be participating in Nanowrimo, also known as National Novel Writing Month, this November, as I do every November. I have a number of books I'll be writing/revising. They are:
Awaken (the final book in the Abandon trilogy, which will hopefully be out in May)
Size 12 is the New Black (current title of the fifth book in the Heather Wells mystery series, which will hopefully be out in July)
And a not yet titled story for an anthology for my Brazilian publisher (this book is just for the Brazilian market. All the authors are writing an updated retelling of a fairy tale. I chose Beauty and the Beast for mine, since I love that story. You can read more about the project here if you read Portuguese. When I get more info, I'll let you know.)
I say "hopefully" about the months these books are coming out because I've just been told that the 2012 Mayan apocalypse has been set for December 21.
While none of those other predicted apocalypses happened and I don't expect this one to, either, if it does, I highly doubt publishers will still be paying out advances or printing books.
So — not that I only write for the money, or anything — in the event of an "extinction level event" like on the TV show The Walking Dead, I will be struggling with my friends and family to find food, shelter, and clean water, not writing books. Although I'd rather be writing books, of course, preferably about non-extinction level events.
Nanowrimo is a super fun writing event held every November where people try to write a 50,000 word story, no revisions, in 30 days. EVERYONE, not just professional writers!
If you've never participated, you should. Many books written during Nanowrimo have gone on to get published, including many of mine. For added incentive, we'll be having our own writing contest (starting now) on the Meg Cabot message boards, with prizes to get you in the mood. Read all the details and enter on the message boards. The holiday can include Halloween and the Mayan apocalypse, so you can write about an extinction level event if you want.
Hey Meg! How are your cats? I luv hearing about them. I have 2 cats 2, their names are Sharky and Blackie.

Love,
Catluvr
Dear Catluvr,
My cats are both fine, thanks for asking, they send their regards to Sharky and Blackie. Gem (Lady Slutty McSlut-a-Lot) has been entertaining a new gentleman caller, Edward Cullencat, even though she's spayed. We know this because I spied her gentleman caller trying to insert his impossibly handsome head through our cat door in a manner suggesting he's done it before.
We then found certain yellow markings about cat-butt high inside the house that were not there the night before, indicating that we are currently experiencing Catanormal Activity.
The explanation that makes the most sense is that Edward Cullencat has been coming inside to gaze upon his sleeping girlfriend, then marking our walls with his manly catness to make sure everyone knows this house, and every cat in it, belongs to him, and all other male cats should keep away.
This is a disturbing twist in Slutty's romantic life and obviously I'm doing what all sensible parents do:
Telling her that I'm completely fine with her relationship. In fact, we're trying to lure Edward Cullencat into our home so we can adopt him and I can dress him up in adorable kitty clothes and make him sleep in a little cat bed the way I do my other cats.
He now runs in terror every time he sees us, since, as a "bad boy," he doesn't want to be forced to wear adorable kitty clothes or sleep in a little cat bed.
I will keep you posted on further developments.
In one-eyed Henrietta news, she received a poor prognosis six months ago from the vet, who suggested we pick out a burial plot for her in the backyard.
But by allowing her to do precisely as she liked (consume a diet composed entirely of Temptation cat treats and Chicken and Tuna Feast Fancy Feast), she rallied with no medical intervention whatsoever, and is doing fine . . . well, fine for her, which often means delicately biting me on the face while I'm petting her, to remind me who is boss. But this has always been completely normal behavior for her.
It is this kind of behavior on Henrietta's part, in fact, that inspired this letter from my friend Michael, which I will leave you with, because it is one of the funniest letters I have ever received:
Dear Meg,

So, I'm listening to the musical portions of Guillaume de Machaut's *Le Remede de Fortune*, written sometime in the 14th century. (This parenthetical space is for you to reassess your friendship with me).

To be more precise, I'm listening to the great "complaint" against Fortune, "Tieus rit au main qui au soir pleur" ("He laughs in the morning who weeps in the evening"), when I come across the following 2 stanzas describing said Dame Fortune. You have to admit the resemblance to a certain 4 footed fickle goddess is uncanny:

"Her head is half bald;
With one eye she laughs, and with the other weeps;
One cheek has the color of life,
The other is like death;
If one of her hands is your friend,
The other will be your mortal enemy;
One foot is straight, the other lame;
She twists the straight.

Her faith is that she's faithful to no one;
Her strength is that she's strong in falling;
Laughing, she brings misfortune,
Tears, woe;
In comforting she makes one sad;
She favors her own by mistreating them;
She takes pleasure in every sort of grief,
Whatever one may say."

Don't misunderstand, I am completely devoted to Dame Henrietta and have been ever since that one shiny eye looked up at me with the tender expression of "WTF?". I would ride Fortune's wheel from top to bottom to top to bottom for her, and I certainly wouldn't have become whatever I actually am if I didn't have the scratches to show for it. But little did I know that Henrietta is the culmination of a whole poetic tradition!

Michael
Dear Michael,
It is so, so true. And it's why we love her so dearly. I thank you for being her devoted friend in spite of her character flaws (which are many).

Henrietta's usual expression, which, like Lady Fortune's, is one of sneering disgust.
Oh! Silly cats.
Thanks for all your letters. They truly mean the world to me.
More later.
Much love,
Meg