Ready to Rock Tour, Book, Giveaways, etc
It's here! The very first copy of the first Heather Wells mystery in five years, Size 12 and Ready to Rock, is in my hands!
Unfortunately, I only have this ONE copy. The rest won't be released in the US/Canada until July 10.
But you can read the first three chapters (and find out why Heather is posing with a bunch of dolls, including Miss Mexico) here, as well as pre-order hard or e-book copies.
So I'm hearing that if you haven't read the first three books in the Heather Wells series, you don't have to worry: It's easy to catch up with what's going on with Heather's life in Ready to Rock (at least according to what people are saying on goodreads.com, where I SWEAR I only went because they're very nicely giving away 10 free copies of the book, and I wanted to be sure to tell you about it, and I wanted to give you ACCURATE information about the dates of the giveaway: It's from now until July 9. I wasn't looking at my reviews. OK, I might have peeked).
But apparently, you can just jump right in with this one. (I didn't do this on purpose at all. OK, I did). However, I strongly suggest you read the first three books in the series first Oh, whatever, do what you want, I only read the first book in Game of Thrones, then skipped to the fifth to find out what happens. Don't tell George RR Martin.
I don't know why there was a five year gap between the last Heather Wells book and this one (except maybe because I started a couple of other series in between. Hi, Allie Finkle and Abandon!).
But in the books, only three months have gone by for Heather and Cooper and the rest of their friends. That's the fun thing about fiction: We age, but our characters don't have to. Thank God, because if they did, then Yoda would have to play Batman instead of Christian Bale this summer.
Speaking of which, a lot of people have been asking about my summer plans. So just in case you're wondering, too, after going on my Ready to Rock book tour (more on that below), I'll be doing exactly what all of YOU will be doing:
–Working (writing the sequel to Underworld, which I'm just reminding you will be called Awaken. OK, I'm reminding MYSELF)
–Going to movies
–Watching TV
–Hanging out with friends and trying not to eat too much (and failing), and
–Reading all the amazing books that are coming out this summer, some of which are anthologies I contributed to (so I can say they're amazing because I know some of the authors, and I think they're amazing, not my own stories, duh, I'm not saying MY stories are amazing, though I did work super hard on them because I wanted them to be as amazing as the stories of the authors I was competing against working with, right, it's not a contest).
So, first things first: Here's where I will be this summer. If you'll be in any of these towns, too, PLEASE COME SEE ME! I hate sitting alone in bookstores (although it does give me a chance to catch up with my Real Housewife celebrity memoir reading. Obviously I don't buy these books, I sit and read them while I wait to go on before my book tour stops begin, while I'm sitting in the stores. This is also how I read the entire Left Behind series and Eat for Your Blood Type):
Meet Meg on her Super Sized Ready to Rock Tour This Summer!

Tuesday, July 10, 2012 

Des Moines, IA

7:00 PM


AVID Festival 
Des Moines Public Library
Hoyt Sherman Place

1501 Woodland Avenue

Click here to find out more!

Thursday, July 12, 2012 

Cincinnati, OH

7:00 PM

Joseph-Beth & Davis-Kidd
Booksellers


2692 Madison Road


Cincinnati, OH 45208

Click here to find out more!

Friday, July 13, 2012 

Dayton, OH

7:00 PM

Books & Co.


The Greene Shopping Center


4453 Walnut Street

Dayton, OH 45440

Click here to find out more!

Saturday, July 14, 2012 

Cleveland, OH

2:00 PM

Cuyahoga County Public
Library


Independence High School Auditorium
6001 Archwood Road

Independence, OH 44131

Click here to find out more!

Sunday, July 15, 2012
Homestead, PA

2:00PM

Barnes & Noble


100 W Bridge Street

Homestead, PA 15120

Click here to find out more !

Tuesday, July 17, 2012 

Lansing, MI

6:00 PM

Schuler Books & Music


2820 Towne Centre Blvd


Lansing, MI 48912

Click here to find out more!

Thursday, July 19, 2012 

Indianapolis, IN

7:00 PM

Barnes & Noble


14709 US Hwy 31 N


Carmel, IN 46032
Click here to find out more!
*I know some of the above links don't work. Don't blame me, blame Tropical Storm Debby, it's not my fault, the Internet here in the Florida has been sketchy for a week due to power surges and I had to write this whole thing in an Internet cafe. Don't even get me started. You're smart, you know how to look stuff up on the Internet which probably works where you are and you didn't have to pay $5 for it and drink two giant beverages (mandatory with purchase of wifi) in a place where the toilet doesn't flush all the way. That is all I have to say.
Right now you are probably thinking to yourself, "Wow, Meg, that is an amazingly ambitious schedule, I bet you are going to have get up very early in the morning to catch flights to some of those towns because there is no other way you will get there on time (plus I bet you have morning news shows to do in some of them)."
You would be right about that! But I enjoy taking 6AM flights because there is no greater joy than watching the sunrise (no. I am lying. I hate watching the sunrise and I also hate Snuggles the fabric softener bear, I wish one day they'd show a commercial where he comes out of the laundry basket and goes, "Hi, I'm Snuggles," and someone does what this lady does to him in this MadTV spoof).
So please make my having to watch the sunrise worth it by coming to one of my signings.
If you hate Snuggles as much as I do, then you'll enjoy Significant Objects, a literary project in which I participated a few years ago: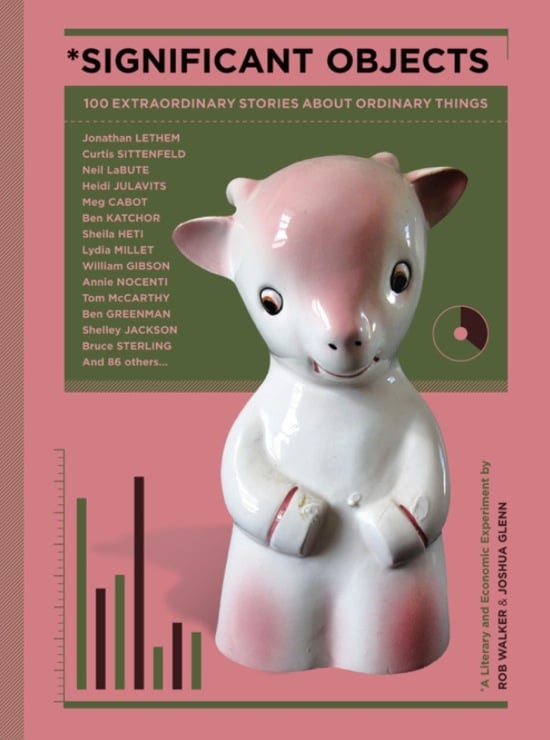 The Significant Objects project set out to answer whether a great story can transform a worthless (or even hideous) trinket into a significant or possibly even beautiful object. Writers from all over the world were given objects purchased at thrift shops for no more than $3.00, and asked to give them a new provenance. The objects were then sold on eBay with the new identities. Proceeds were donated to writers charities.

Now "100 of the finest tales from this unprecedented creative experiment" have been collected into a book.
Thankfully, my object was not Snuggles the fabric softener bear although I was slightly worried it would be.
There'll be an event celebrating the publication of this book at the Strand in New York City on July 10 (unfortunately I can't attend this event because I'll be in Des Moines celebrating the pub day for Size 12 and Ready to Rock). But here's the info about it and here's one of the many places you can buy the book, due in stores July 17, if you can't make it to the Strand.
Here's another anthology to which I contributed that will be coming out this summer:
Foretold: 14 Tales of Prophecy and Prediction
"Richelle Mead, Lisa McMann, Laini Taylor, Meg Cabot, Michael Grant, and nine more of the hottest YA authors to hit the shelves explore the concepts of prophecy and prediction in this story collection edited by NYT bestselling author of The Forest of Hands and Teeth, Carrie Ryan."
I've been asked if, when authors write anthologies, we all sit around and write our stories together in the same room, perhaps in a castle at a writers retreat in France (I get this question a lot about the anthology I did with Stephenie Meyer, Prom Nights from Hell).
Just to clear things up, this is not how anthologies are written, in my experience. I have never met Stephenie Meyer, and I have also never attended a writer's retreat. All anthologies I've contributed to were done via email, generally because someone came up with an idea for an anthology and asked if I'd be interested in contributing and I happened to have a story idea that wasn't long enough for a full length book. To see a complete list of all the anthologies I've contributed to (I think, it's even hard for ME to keep up! It looks like What You Wish For is missing), click here and scroll to the bottom.
So that's how my contribution to Foretold, Out of the Blue, came about, by Carrie emailing me and saying, "Wanna do a story?" My story is about modern twins, a boy and a girl, who get a curious prophecy from a stranger when they're six. Their parents don't believe them. Ten years later on their 16th birthday, it turns out their parents–and the world–should have listened.
Foretold is due in stores August 28. Click here to find out more!
Here are a few bits of other news before I get back to lunch work my house where the Internet is not working:
We (we meaning Janey, my website guru) added more extras to the Underworld page! Now you can download a map of Isla Huesos to find out where Pierce lives in relation to the cemetery! See the high school, John's crypt, and the light house! Check it out here. Stay tuned for discussion questions (extremely literary, via Scholastic) and FAQs coming soon!
Check out this beautiful cover of Overbite from Brazil! Bonita!
Find out more about Mordida here.
And finally, this wouldn't be a blog entry without some contests:
Are you an aspiring writer? Enter to win a manuscript appraisal from me, via Scholastic's ThisisTeen! All the details are here.

There's still time to enter the book trailer contest for Underworld! All the rules and information can be found here! The prize is an iPad, so get filming!

We're giving away 5 copies of UNDERWORLD. One lucky winner will also receive a copy of Size 12 and Ready to Rock (note: this was going to be an ARC giveaway but the ARC is UNEDITED and is a little bit different from the finished copy–in other words, I cut some repetitions and smoothed out some things, particularly in the last chapter, in the final draft–so I'm going to give out a finished copy instead. Don't blame me, I'm like Maverick in Top Gun, I fly write dangerously close to the edge when it comes to handing in my final drafts). Click here!

And don't forget the Goodreads contest on the Size 12 and Ready to Rock page!
I have nothing else to say except stay tuned for a recently unearthed, remastered video from 1995 of a then 15 year old Heather Wells singing her smash hit Sugar Rush (with a guest rap from then 17 year old Jordan Cartwright).
You won't want to miss it. Coming to the Internet ANY DAY NOW:
More later.
Much love,
Meg