Follow Your Heart
Those of you who follow this blog know that I've spent this summer on the road. And I still have three signings left! Bookworks in Albuquerque on Sunday, July 17th; University Village Barnes and Noble in Seattle on Monday, July 18th; the Author Series at the Woodmark Hotel (also in Seattle) on Tuesday, July 19th; and a final appearance at Books and Books in Coral Gables, Florida on Saturday, July 23rd.
Aside from being really sick of the clothes in my suitcase, and missing my cat, Henrietta (He Who Shall Not Be Named in the Blog says she's doing fine), spending the summer visiting our great nation's bookstores and libraries has been an interesting experience, and I thought I'd share some of my observations:
Yes, We Can . . . .
. . . depend upon the kindness of strangers! For the most part, the people of this country will bend over backwards to aid a passenger in distress, particularly one who is wandering around in a Dramamine-induced daze, like I am most of the time.
Members of our nation's military (who can be found in every airport at every hour of the day, not on duty, but trying to get to their destinations like the rest of us) are particularly kind, as illustrated by the nice young man who pointed out that I had just accidentally entered the men's bathroom, not the ladies room.
"I do it all the time, ma'am," he told me when I flusteredly apologized, even though we both knew this was a complete lie. God bless our military.
Strangers Will Even Get You Tickets to the new Harry Potter movie . . .
Like Bethany, Bonnie, Miranda, Erin, Amanda, Juliette, and Stephanie did in Tulsa! Thank you, ladies! Sorry I could not attend, but I had to leave for the airport at 5:30 the next morning. But I appreciate the thought so much! I'll think of you when I see Harry when I get back home. I hope you had fun.
They'll Leave You Lovely Post-Its, Letters, Cards, and even Personalize Mrs. Fields Cookies to You!
(And when I get my camera working again, I'll show you photos of all of these things soon, I promise!)
But There is Some Bad News:

This photo isn't the bad news. It's from Good Day Tulsa, where I had a blast. I just had nowhere else to post it!
The bad news is that some women in airports apparently didn't get the Human Resources memos featured in my Boy Books:
If you sprinkle when you tinkle
Be a sweetie: Wipe the seatie!
I get that the world is divided up into sitters and squatters.
But Squatters, if you must squat (and miss the seat), could you wipe it off for the next person? Thanks! Remember the words of Julie Andrews (playing Princess Mia's royal grandmother):
"Manners matter!"
I was using my best manners when I got interviewed by Minnesota Public Radio, but I still violated COPA laws by revealing that the inspiration for Overbite and Insatiable was a hepatitis outbreak that occurred in the dorm where I used to work when some students started biting one another (thanks to thinking they were characters from Anne Rice's Interview with the Vampire).
This is, actually, a true story. But university employees aren't supposed to reveal private student medical matters.
Oh well, good thing I don't work there anymore.

At National Public Radio, down the street from where they record Prairie Home Companion!
Here's my MPR interview: From Princess Diaries to Vampire Love
Oh, and the Frequently Asked Questions and Discussion Guide from Overbite are up now! Since everyone's been asking if there'll be a sequel, this is a good place to go to find out. Also find details about the burgeoning hellmouth near you.
And have you checked out this August's Cosmo magazine?
There's a short story in it by me!
And don't miss this article from Tulsa World . . . . "Author Meg Cabot gives readers one of the most bittersweet, romantic and powerful kisses as an ending in her latest adult fiction, Overbite . . . ." Wow!
The girls at Forever Young Adult seemed to agree in their review of Overbite. They totally crack me up every day.
In other news:
Thanks to this video, everyone knows what I'm reading right now:
[youtube]http://www.youtube.com/watch?v=Ecp3_Qtsfa0[/youtube]
But besides Game of Thrones (which really is good) I've read some other good books, including In Search of the Rose Notes by Emily Arsenault, which is about two young girls who start investigating when their teenaged babysitter disappears (who could resist this premise?).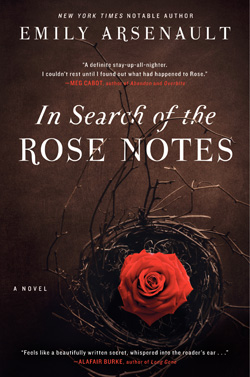 Creepy! And really good!
And also the first book in a new series by Louise Rennison (of Georgia Nicholson fame), called Withering Tights. Only this book is about Georgia's cousin, Tallulah, who goes to a summer drama camp in Yorkshire.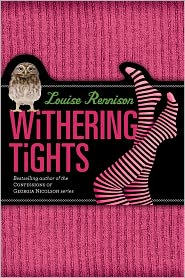 I agree with this reviewer: Tallulah is wonderful (totally different than Georgia, but even more lovable, in her own way), and I can't wait to read more about her!
One other thing I just read that was NOT so good was a report that the average American (kids included) spends upwards of eight hours a day sitting hunched over a screen. This doesn't include TV. This is just laptop computers and handheld devices, like a phone!
This is causing all sorts of problems, such as nerve damage (sometimes severe) to the shoulders, neck, and spine.
But this can be reversed or at least slowed (according to my doctor, who says my bone density scan looks like a 90 year old woman's) if you put away the devices once in a while, then squeeze your shoulder blades together until you feel them disappear into your back (remember the Bend and Snap from Legally Blond? Stand with your chest thrust out the way Elle did during the Snap part, but keep your arms at your sides. Does it feel totally horrible? Good, you're doing it right).
This might feel a bit scary—even unnatural—the first few times you do it (especially since Elle was right: guys definitely pay more attention to you when they see you standing this way).
But it's really good for you (of course check with your own doctor first before doing any exercise or making any lifestyle change).
This move is part of a yoga pose called low cobra. It not only flexes your spine, it opens your heart to the world.
The only thing you have to do afterwards? Follow your heart where it leads you.
And I hope your heart leads you to one of the last events on my Overbite/This is Teen tour!
Sunday, July 17, 2011
3PM
Albuquerque Museum of Art and History
2000 Mountain Road Northwest
Albuquerque, New Mexico

Sponsored by Bookworks
Contact: Laura Kuechenmeister

Main Phone: 505.344.8139
events@bkwrks.com

Monday, July 18, 2011

7:00 PM
BARNES AND NOBLE
2675 NE University Village St

Seattle, WA 98105


Contact: Melissa Wells

Main Phone: (206) 517-4107

Tuesday, July 19, 2011

6:00 PM to 7:30 PM

Words at Woodmark
THE WOODMARK HOTEL AUTHOR SERIES

The Woodmark Hotel
1200 Carillon Point
Kirkland WA 98033


Contact: Joy Delf
Mobile: 206-235-7457

jdms@joydelf.com

Saturday, July 23, 2011

7:00pm – 9:00pm


Books & Books 

265 Aragon Avenue

Coral Gables, FL


Please contact the store directly for details and for any event requirements/rules specific to this event: 305-442-4408.
More later.
Much love,
Meg