Make Someone's Wish Come True
While certain other people are stressing out just the teensiest bit about the upcoming royal wedding (see Princess Mia Thermopolis's blog) on April 29, 2011, I'm stressing out just the teensiest bit about the book tour I'm about to leave on for my new YA paranormal Abandon.
(You can see the clock counting down the days until this event occurs—as well as a sizzling new excerpt and cool other extras—on the brand new web page for Abandon here.)
But if you ask me, Kate's gig is nothing! It's just twelve hours, including the ceremony, photos, afternoon cake-cutting reception, and evening reception.
Then afterwards Kate gets to go on a honeymoon on a yacht to relax and be a princess for the rest of her life! Check out MY schedule (there's an interactive map! For real!) for the next fourteen weeks.
Do you see any yachts or relaxation or tiaras in there? No, you do not.
Not that I'm complaining, because it's going to be fun (except the travel and the no yachts or tiaras). Part of the tour will include a new initiative by Scholastic to build a global community that connects teens with their favorite authors. It's called This is Teen and will include me and authors Libba Bray and Maggie Stiefvater, both of whom also have books coming out this summer (but as far as I know, no yachts or tiaras either).
We will, however, be coming to cities near you to tell you stuff like in this video:
[youtube]http://www.youtube.com/watch?v=IdtTD7nmuco&feature=related [/youtube]
Another part of my tour will be to promote Overbite, the sequel to my adult paranormal, Insatiable. Contrary to what you might think, Overbite is not a book about a girl with dental issues. Instead, it's about a girl battling the forces of evil while (unfortunately for her) being in love with the prince of darkness (an example of taking on more than one can chew, since she doesn't get a yacht or a tiara either. Sorry if this is a spoiler).
I'll be able to tell you more about Overbite (and reveal the cover, excerpts, and webpage!) closer to its pub date of July 1.
I'm seriously super grateful for all of the great advanced press there has been for Abandon . . .
. . . like this great review from Seventeen Magazine.
Favorite part from Seventeen review: Pierce is a rockstar narrator. She's bold, gutsy, and hyperaware. She might even be too brave for her own good. We love a girl who isn't scared to take action. Pierce might be a little reckless, but at least she's never a damsel in distress.
And this piece by the amazing Sue Corbett in Publisher's Weekly Children's Bookshelf about six new spring titles and their inspiration, including Abandon) and Chris Van Allsburg's Queen of the Falls. Chris Van Allsburg was my idol when I was an illustration major in college. I can't believe I have a book mentioned in the same piece as his! I seriously freaked out when I saw that)!
Favorite part from the Publisher's Weekly piece (about Abandon, not Chris): Where I got to talk about how Persephone is one of the only female characters in Greek mythology who not only doesn't get turned into a tree, she becomes queen of the underworld.

To me, as a teenager, that was such an empowering thing. I think there's a part of every teen (at least the ones who feel like they don't fit in) that's longing to meet that special someone who will not only understand them, but take them away from their crappy life. "Get me out to a palace where I can rule over dead people!" was always my mantra.

Plus, I kinda got the feeling Persephone thought Hades was hot. I always thought she ate that pomegranate on purpose.
And special thanks to Kristi from The Story Siren for reading aloud the excerpt from Abandon! She did such a great job . . . .
Especially since I personally can't stand seeing myself on camera (notice how I don't vlog? This is why)! Kristi is so great!
For those of you wondering what I've been doing with myself lately, I've been working very busily on many projects, including but not limited to:
a) Trying to help solve the murder on AMC's The Killing

b) Enjoying the delightfully campy new version of Upstairs, Downstairs on Masterpiece Theater. You don't have to have watched the previous version to understand this one. And this one is even more fun than the old one because it has the most fun-to-hate villains of all, NAZIS!

And there is also a wickedly naughty (or possibly just confused) character named Lady Persephone—pronounced Purr-seph-oh-knee, in case you didn't know—as well as a monkey! LOVE IT!

c) Trying to enjoy The Borgias, but after what happened to poor Lucrezia I may have to give it up for Game of Thrones (but this looks like it may be just as bad for the pretty girls), and

d) Working on the sequel to Abandon (called Underworld) as well as a few short stories for some anthologies.
One of them is for the Book Wish Foundation, an organization that gives some of the world's neediest readers the books they wish for. 100% of the proceeds from this anthology are going to the UN Refugee Agency, UNHCR, to build libraries in Darfuri refugee camps in Chad.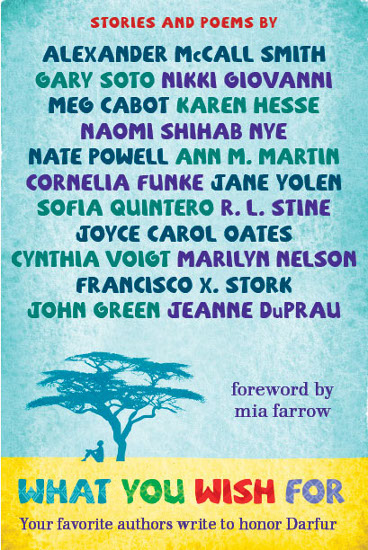 Some of the authors contributing to this anthology (in stores September 2011, published by Penguin/G.P. Putnam's Sons) include Ann M. Martin (Babysitter's Club!), Alexander McCall Smith (No 1 Ladies Detective!) John Green (I don't need to tell you guys what he wrote), R.L. Stine (ditto!), Joyce Carol Oates (ditto!), Cornelia Funke (ditto!), and many more!
(You know ditto means "the same thing" right? In olden times we used to call photocopies of stuff "dittos.")
And now, just in time for Passover (and Easter!) you can do a mitzvah (a mitzvah is a good deed or unselfish act, for those of you who don't know. You should do at least one mitzvah every day), and help contribute to the anthology by donating $20 (just TWENTY DOLLARS) and have your name (or the name of someone you love) in the book ALONG WITH THESE INCREDIBLE WRITERS, by going here.
All the money goes to helping refugees.
But you have to do it by April 30, 2011, or it goes away, just like Cinderella's coach at midnight!

(Love this app because YOU get to be the wand and make Cinderella's wish come true!)
Well, I have to get back to work now. When you have a book coming out—make that TWO books—and a sequel to one of them due, THERE IS NO REST.
There is only fruitless searching on the Internet for better makeup to hide the dark circles under your eyes.
(I'm pretty sure this is what Kate Middleton is doing right now, too, FYI.)
And even though I can't stand seeing myself on video, I'm posting the video below, because Scholastic went to a lot of trouble to make it.
(If I had hair like Kate Middleton or Kristi the Story Siren, vlogging might be OK. But I do not, so for now vlogging is out).
But this video does answer some burning questions I've been receiving about Abandon from people who've read advanced copies. So there'll be more videos coming soon.
Stay tuned!
[youtube]http://www.youtube.com/watch?v=hjWKj2OQH8k&feature=channel_video_title[/youtube]
More later.
Much love,
Meg