Back to School Contest For Teachers/Librarians!
Remember how I said I was going to blog every day? Well, I totally meant to keep that promise. But then someone gave me a case of Back To School Stomach Flu (don't even ask why this happens every time I go on a plane).
Anyway, I've spent the past two days with a salad bowl in my lap. I won't give you the details, except to say the following: If you ever have the stomach flu, do NOT watch Danika starring Marisa Tomei or The Box starring Cameron Diaz. Neither of these movies are what I would consider flu worthy (unlike Baywatch episode eight of season eight, happily entitled Eel Nino, in which Mitch wrestles a 20 foot electric eel in a cave. Fast forward to 3:50 to see Hobie punch the eel in the head!)

David Hasselhoff says in his autobiography "Don't Hassel The Hoff" that he didn't feel the eel storyline was very realistic (electric eels are fresh-water fish, and cannot survive in salt water, which will damage their gills and cause their electricity-generating organs to uncontrollably discharge), but Baywatch producers told him this plot was based on a true situation in which an eel escaped from an aquarium and grew to huge lengths in the Malibu sewers.
So, to celebrate the official start of the Back to School Season (always signaled by my throwing up in a salad bowl), I have a couple of amazing events planned:
First, tomorrow I'm visiting the Arctic Sunrise! Yes, that's right . . . Greenpeace is launching a three-month long expedition to the Gulf of Mexico, and they've invited me to come aboard and say hello (since Princess Mia Thermopolis, whom you might remember joined me in donating all of our author proceeds from our book Ransom My Heart to Greenpeace, is back at school and unavailable to make state visits at this time) on their stop here in port in Key West, where they're picking up researchers!

The Artic Sunrise is 165-feet long and will house the expedition's crew of Greenpeace workers and researchers during their trip as they try to figure out where all those millions of gallons of oil disappeared to!
Expect a full report soon!
The second event is a huge book signing and dinner in Denver, CO on September 16. The proceeds will benefit Craig Hospital's Harry R. Hahn, MD Alumni Scholarship Fund. I'll join be joining best-selling mystery author Martin Cruz Smith (I KNOW. Speaking of eels, that scene with the eels in his book Polar Star is like my favorite scene in a mystery EVER) and well-known Egyptologist Donald P. Ryan at Barnes & Noble West on September 16, beginning at 11 AM (the store is located at 14347 W. Colfax Avenue, Lakewood CO 80401).
Then join all three of us later that evening for the 21st Annual Kappa Book & Author Dinner, where we'll be speaking and signing. MC for the evening will be from Channel NBC9. I know, it's going to be so FANCY!
For more information on both the signing and how to get tickets for the dinner, click here. I'm very excited about this trip, not only because it's for such a good cause but because half my family lives in Denver, and I'm going to see my brother and nieces and aunts and uncles and cousins' and even be making a few SCHOOL VISITS! (Don't you love that back-to-school smell? Have they figured out how to do something about that yet? My whole house smells like that now, on account of my flu.)
So to celebrate that (the events, not the smell of my house), as well as the release of the latest Allie Finkle adventure, Allie Finkle #6, Blast From The Past, due in stores September 1, I've decided to have an Allie Finkle Back to School Contest!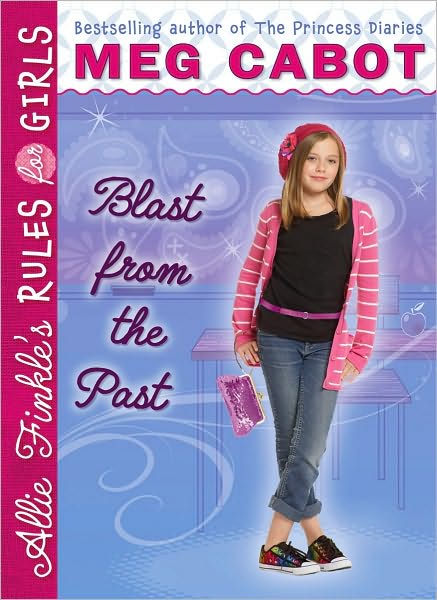 If you're a teacher or a librarian stocking your classroom bookshelves for fall (or if you have a favorite teacher or librarian who is doing this!) be sure to enter! All you have to do is join my Facebook page, then post a story on there about your favorite teacher, explaining what made him or her so great (just like Allie Finkle's favorite teacher, Mrs. Hunter).
(Edited to add: OK, I have already heard from a zillion teachers and librarians who don't belong to, or know how to post something, on Facebook. If this is the case, you can still enter. Just follow the instructions below, and email me your story.)
Send your story to meg@megcabot.com, with the words Allie Finkle Back to School Contest in the subject line, along with the name of the teacher and the postal address of the school or library to which you'd like some books sent, as well as what age range you'd prefer (middle grade or YA. Also, we have some audio books, so if you'd like those, please let us know)!
Then in a week or so, a few dozen lucky winners will receive FREE Meg Cabot books in the mail for their classrooms or libraries . . . maybe even copies of my brand new September 1 release, Allie Finkle #6, BLAST FROM THE PAST, the newest book in the Allie Finkle series!
Remember, I can only send copies to schools or libraries at this time!*
And in a separate contest, just for book reviewers/bloggers:
Book reviewers with blogs interested in receiving an advanced reader copy of Allie Finkle #6, Blast From the Past, can email me at meg@megcabot.com. Be sure to include a link to your blog, as well as the address at which you receive packages, so we have a place to mail your book!*
(Advanced reader copies are uncorrected proofs, which means they may contain editorial mistakes. Therefore they are not appropriate for placement on bookshelves in classrooms or libraries.)
*We will make every endeavor to email you to let you know whether or not books are on their way, but this may require a level of organization not possible at this time. Copies should come by September 1 though if you've won!
Isn't Back to School Time wonderful? Well . . . I guess that depends on who you ask, of course, as the comments on this, the most famous (and controversial) Back To School commercial of all time, indicate.
More later.
Much love,
Meg