Vampires: Don't try it at home
I don't know what you were doing this past Saturday, but I went to my first ever co-ed baby shower. There was beer. Also, gambling (on how much the baby would weigh at birth).
At the shower people told me they had just seen John Searles from Cosmopolitan hosting the "Summer Reads Round-Up" on NBC TV's Weekend TODAY (Hoda and Kathy Lee aren't on it. They have weekends off).
One of the five books John Searles chose, it turned out, was mine.
I was all, "WHAT?"
Everyone was like, "Meg, I didn't know you had a new book out."
I yelled, "I don't. Until June 8."
(But, as I cannily informed them, you can pre-order it.)
Since I didn't even know it was going to be on, I didn't record the show, and there's no link up yet.
But my publisher sent me a transcript. Out of context, the script is hilarious, so I'm pasting it here:
ROBACH: OK. I think the next one kind of says it all in the title. "Insatiable."

Mr. SEARLES: "Insatiable." Meg Cabot is known primarily for her young adult novels like "Princess Diaries," that series. This time she tries something different, and succeeds wildly. It's about a woman who has this weird ability to be able to tell how someone's going to die. It makes for a great read.

ROBACH: Oh.

Mr. SEARLES: I don't want to have her at a dinner party of mine anytime soon, but it's a great book.
It kind of sounds like he's talking about how he wouldn't want to have ME at a dinner party, but I think he means my main character (who looks like Kate Spade Barbie, only not as skinny and with a pixie cut).

Yes, the dog is the dog from the book, Jack Bauer.
You can see Kate Spade Barbie star in her own video, if you scroll down a bit. But first:
Some of the people at the baby shower were like, "Uh, Meg, I didn't know you knew anything about vampires."
I believe they regretted asking this question when I spent the rest of the shower informing them of the following:
A Few of My Favorite Vampires/Vampire Slayers

Sarah Michelle Gellar as Buffy on Buffy the Vampire Slayer (TV)
Following in the footsteps of the first feminist vampire slayer (Mina Harker), Buffy, the Chosen One, had the misfortune to fall in love with not one, but two vampires!
I love her creator Joss Whedon and how he "weighed in on the vampire craze of the late 00's" in this week's Entertainment Weekly (100 of the Greatest Characters of the Past 20 Years, although I thought they left out a few).
But I have to disagree with the term "vampire craze of the late 00's." True, as storytellers, our job is to put our own spin on the topic (Joss's? "Growing up." Mine? "Being dead? Not a happy ending.")
But this "craze" is no craze. You want a craze?
Check this out:

Brad Pitt as Louis in Interview with the Vampire (1994)
FACT:
1994. I was working as an assistant dorm manager at NYU when Interview with the Vampire exploded in popularity (kind of like Twilight, only way darker).
A bunch of suitemates in a room in the dorm where I worked decided it would be cool to bite one another, then drink each other's blood.
If you decide you want to be a real life vampire, that's cool with me. Just don't do it if you have hepatitis from all your unsafe piercings/tattoos.
So, as far as crazes go, I consider this current one pretty mild. I mean, you're embarrassed because your mom threw her thong at Taylor Lautner?
Hey, I was riding around in ambulances with people to St. Vincents, then changing locks (under command of the NYC Board of Health), and handing kids their belongings in plastic Glad bags (not without a certain amount of glee. I mean, these kids were dumbasses).
So go read about the history of vampire novel crazes here.
Then come back and read this:
Vampirism. Fun to read about. Just don't try it at home (or at school).
And don't call it a craze until the NYC Board of Health comes and shuts it down, punks.

David Boreanaz as Angel on Buffy the Vampire Slayer (TV)
The gypsy curse that gave him back his soul (but decreed if he experienced a moment of pure happiness) caused him much inner pain. Because of course for him happiness was sex with Buffy. But it was so much fun for us viewers.

James Marsters as Spike in Buffy the Vampire Slayer (TV)
A vampire who never had his soul restored by a gypsy curse, Spike somehow managed to love Buffy anyway. He loved her so much he went and managed to get his soul restored on his own (through a long and painful process), just because he thought Buffy might forgive him for his many misdeeds.
Why didn't Angel think of this? Did Spike love Buffy more than Angel did? Why do I still think so much about this guy?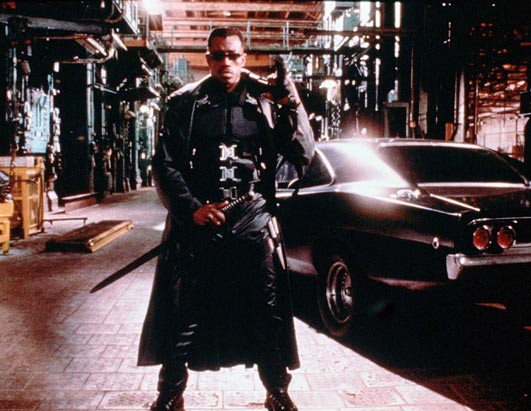 Wesley Snipes as Blade in Blade (1998)
In a time when darkness rules the land, one man will come forth and lead us to the light. That time is now, and that man will be Wesley Snipes.
Where are you, Mr. Snipes? Come save us.

James Woods in John Carpenter's Vampires (1985)
Like From Dusk Till Dawn, starring George Clooney as a psychotic escaped con who kidnaps Harvey Keitel and takes him and his kids to a bar overrun by vampires, John Carpenter's Vampires is just always ON. Why? I don't know. I have to watch it whenever it is. Because like 30 Days of Nights, it's just scarily awesome.

Salem's Lot by Stephen King
Wait, what? Isn't this supposed to be a list of movies and TV shows? No, it includes books, too. I've never gotten to the end of this book because it scares me so much, so I don't know what happens. DON'T TELL ME!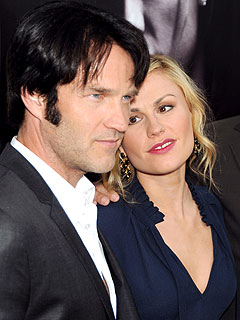 Stephen Moyer as Bill Compton in True Blood (TV)
God, look how cute they are! And they love each other in real life, too! I don't want to say I knew from watching the show, but couldn't you tell? I could.

I've never met Charlaine Harris, but I want to, especially after this interview in the NYTimes magazine.

Keifer Sutherland as David in The Lost Boys (1987)
All I'm saying is, this is the movie where he trained for all the torture scenes he'd do later in 24.

Parker Posey as Danica Talos in Blade: Trinity (2004)
New rule: Parker Posey must be in all vampire movies.

Frank Langella in John Badham's Dracula (1979)
The original sexy rich vampire (on film) who only liked virgins.
That table kind of reminds me of the one the hot devil guy had in the movie Legend (when he tried to make Tom Cruise's girlfriend be his hot devil bride). Aw, Legend!

Kate Beckinsale in Underworld, many incarnations (2003-2011)
If you liked her as an orphan tidying up Cold Comfort Farm, you'll LOVE her as Selene, the tortured vampire.
Well, maybe you won't, but I did.

Ashley Greene as Alice Cullen in Twilight (2008)
I just love Alice, who wins my award for best dressed vampire of all time. My favorite part in New Moon was the head scarf she wore while driving in Italy. Did she go, "Let's see: Driving fast to stop Edward from killing himself? Ooooh, chiffon head scarf. Perfect!" Yes. She did. (This was a refreshing change after Bella literally did not change clothes for three months while sitting in that chair in a depressed stupor.)

Dracula by Bram Stoker
Join us. We're waiting. We don't bite.
You know you want it.

Ryan Reynolds as vampire Hannibal King in Blade: Trinity (2004)
This is just horrible. Ryan Reynolds is a gifted thespian and has given us hours of viewing pleasure, particularly in comedies such as Just Friends and The Proposal.
We should not be objectifying him by posting shirtless photos of him all over the place, particularly as Hannibal in Blade: Trinity, which he may not consider his finest work (or maybe he does. I don't know).
Please, please vote for Ryan and Sandra to win Best Kiss at this week's MTV Movie Awards (hosted by one of my favorite comedians, Aziz Ansari. Aziz wants you to vote for Ryan)!
Save Ryan, Jessica! Save him from everyone preying upon his manly gifts!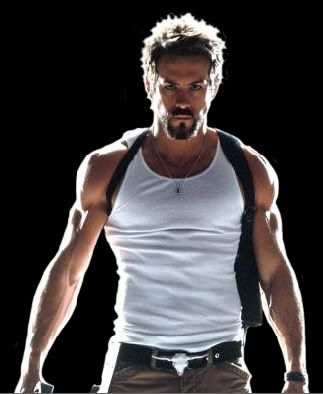 I'll close with this exclusive video sneak peek from my book, re-enacted by Barbie, GI Joe, and Ken (this is the Ken doll that was auctioned off, along with an ARC of the book, for $600 to benefit Do The Write Thing For Nashville!):
Note: No dolls were objectified in the making of this book trailer.
More later.
Much love,
Meg