Picture Books by Meg!
Let's just concede that 2010 hasn't gotten off to a very propitious start.
Haiti. Authors dying left and right. The entire world (NBC, the Internet, Wall Street, what have you) appearing to have gone insane. My husband still being on crutches.
But it isn't all bad, you guys. Because it's just been reported that Madonna has been trying to have another baby! At fifty!
Thank you, Madonna! We can always count on you to help out when times are rough.
As you know, I'm a huge Madonna fan. One of the first albums that I ever bought was Madonna's "Like a Virgin."
While I'm not sure the information about Madonna and her boyfriend Jesus celebrating their love by having a baby is completely accurate, I've decided that, in the spirit of giving, I should help out…
…by writing Madonna's next few picture books for her!
Oh, I know Madonna writes her own books! Most celebrity authors do, without any help at all from their publishers or professional ghost writers:

Shhh!
…I'm just thinking that with this new baby (and all the other babies she's already got from Africa), Madonna might need a little help. Because parenting is the hardest job there is…even when you aren't giving birth at 50!
So, here you go, Madonna! Some new picture books for the new baby, from me to you…no charge!
Now You Are Six
Now you are six!
That is old enough
To run to the corner store
And buy Mommy a Butterfinger and a Vogue.
Yes! You can keep the change, child.
The wonder of being six.
Who smells a Caldecott?
Me! I do!
This one is for Lourdes, Madonna's daughter, to help her with the adjustment of Mommy's new baby with her hot new boyfriend:
Mommy Has a New Baby
This is a happy time for you!
You have a new baby brother! Congratulations!
Now your days will be filled with fun
And laughter (and poop!)
Of course the truth is in twenty years
You'll be the one visiting him in rehab
After he steals your car
(And your boyfriend)
Because Mommy will be seventy
And completely out of it.
But, for now, yes, he's cute!
Sorry about the poop!
Brilliant, right? Madonna, I think this one will win us the Newberry for sure!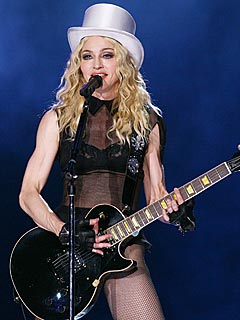 Please wear this outfit when you go to pick up the award.
Now, what do you think about this one?
Now You Are Five
Now you are five!
Isn't that great?
Now go back to bed
And don't wake up Mommy
Until its time for The View.
Being five is fun!
I'm loving it!
This one is probably my favorite though. I'm calling it The New Puppy:
You got a new puppy!
Isn't he sweet?
Unfortunately Mommy has to take him back to the pet shop
Because he ate all the heels off her Louboutins
and the power cords to her laptop.
Maybe you should have looked after him
A little more closely like you said you would
When I let you pick him out.
Oh, well, lesson learned!
Seriously: Olivia just got OWNED.
Here's one last book. It was a tough one, I'll admit.
But I didn't want to just leave you hanging, Madge:
When Mommy's Celebrity Friends Come to Visit:
A Precious New Life!
It's such a miracle!
Oh, no, I don't want to hold him.
This a Michael Kors and
And it cost twelve hundred dollars.
And spit up is so hard to remove from silk.
But he's such a darling and
You're so lucky!
Well, we have to go to Kabbalah now.
Bye!
Anything I can do to help, Madonna!
Call me. We'll have lunch.
More later.
Much love,
Meg