Betsy Rules
Be sure to check out my piece on the Betsy-Tacy books in today's Wall Street Journal! Just click here.
If you haven't read the Betsy books yet…what are you waiting for? The Betsy-Tacy Books by Maud Hart Lovelace have been beloved by girls and women since they were first published in the 1940s. Fans of the series include New York Times bestselling authors Laura Lippman, Anna Quindlen, Judy Blume and Nora Ephron.
(Check out Meg Ryan hand-selling the Betsy books to Tom Hanks's niece next time you watch "You've Got Mail"!)
Now the high school Betsy-Tacy books (Heaven to Betsy and Betsy In Spite of Herself, Betsy Was a Junior and Betsy and Joe, and
Betsy and the Great World and Betsy's Wedding) which follow Betsy and her Crowd through 4 years of high school, on to a year of travel in Europe and to her marriage to (Name Deleted As It Is A Spoiler), have been reissued with original cover illustrations by Vera Neville and forewords by Laura Lippman, Meg Cabot and Anna Quindlen!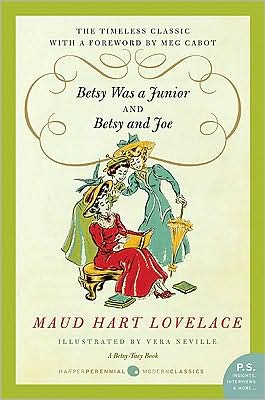 (This one is obviously the best because the foreword is by me)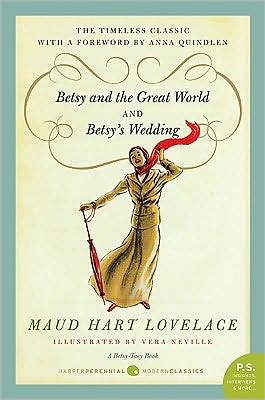 When HarperCollins asked me if I'd like to participate in this project (for which I might add I am not getting paid a cent. This is a labor of love), I said, "Only if I can have dibs on my favorite books, Betsy Was A Junior and Betsy and Joe."
And they said, "Okay."
(Actually, it was more like, "…um, okay, weirdo.")
Then I called my friend Beth, who loves the books too, and yelled, "Guess what I get to do????"
And she was like, "LUCKY!!!! Those are the ones with the romantic love triangle and all the fighting and kissing!!!!"
Of course they are. I'm not stupid.
Then Beth wanted to know, "Will you please send me free copies of the books????"
And I was all, "Maybe…if you do everything I say."
(But I did. Also, I sent her a Betsy mug and some notecards that I got in the Betsy-Tacy Gift Shop.)
So now you too can participate in the serious dishyness that is Deep Valley High School, circa 1910 (I swear to you, it's exactly like Princess Diaries, just no tiaras or text messaging).
GO FOR IT.
Only I warn you: You will be hooked.
And then you too will want a mug.
More later.
Much love,
Meg