Ash by Malinda Lo
I'm so excited that Malinda Lo's brilliant retelling of Cinderella, Ash, is finally in stores!
I was fortunate enough to be able to read a review copy of this book a long time ago, and couldn't wait to be able to talk about it with you.
And now here it is!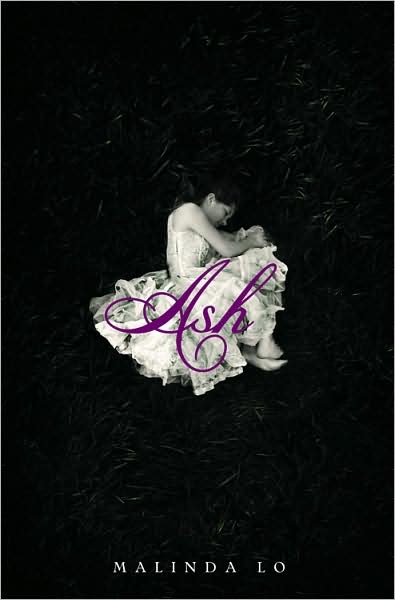 Finally!
Publishers Weekly says Ash "should establish Malinda Lo as a gifted storyteller," while Kirkus calls it "exquisite and pristine," with "beautiful language, magically wrought."
School Library Journal says "fans of romance, fantasy, and strong female protagonists will embrace this fine debut novel."
I said when I blurbed it that Ash was "A rich and darkly moving tale I couldn't put down. Malinda Lo is an exciting and welcome new voice in YA."
But weirdly, now that the time has come for me to finally be able to talk about Ash, I find myself at a loss for words. Those of you who have read it will know what I mean. It's just such a beautifully written book…like I said, so dark and complicated, you don't really know what to say about it (or at least, I don't).
So I was really happy to stumble upon Bookslut's review of Ash, because it put into words what I find myself unable to.
So I'm reprinting some of what the review said (without Bookslut's permission–naughty me! You can read the entire review here) with my comments. I stole the pictures from other websites all on my own. Go me!
From Bookslut:
Malinda Lo deserves a lot of credit for taking on Cinderella in her new book, Ash. Lo does not discard all of the tropes — fairy is here and so is romance — but Ash is a mature retelling of a classic and one that startles as much by its subtlety as it does with its hint of passion.
Young Aisling or "Ash" struggles mightily with the loss of her mother early in the story and is very nearly broken with incapacitating grief. Her father's subsequent remarriage is a shock, as is his rapid illness and the dishonor (due to poorly managed finances) revealed by his death.
From a happy childhood in the country, Ash finds herself transported to a city home with a stepmother who feels duped by her husband's lack of wealth and two stepsisters who lumber under the weight of finding necessary lucrative marriages.
Drawn repeatedly to her mother's grave and the happy memories she represents, Ash finds herself walking the borderlands with faerie, a place she was taught to respect by a family friend and now hopes will show her the way to her lost parents.
While she is not suicidal in the conventional sense, Ash does want to end her miserable life and sees an escape into faerie as the way to accomplish that. She meets Sidhean who offers to take her away but not yet — he is waiting for something from her and she must be patient until he is satisfied, so she can leave her pain behind.
(Note from Meg: Instead of a fairy godmother, this story has a fairy godfather. He is called Sidhean and I have no idea how you pronounce that. But he is super sexy.)
This being a Cinderella retelling, there is of course a prince, a ball and a masquerade.
(Note from Meg: The prince is super sexy, too. He has a scar across his face. I love that!)
The step sisters are preening ninnies–
(Note from Meg: Actually I disagree with this, I found that one of the stepsisters turned out to be kind of nice, at least in the version I read, but maybe that changed prior to publication. Or possibly I am just an idiot.)
–the stepmother an uncompromising harridan, and magic makes a romantic moment possible.
But this is also Lo's version of Cinderella, and so there is a heavy bargain made for that magic and Sidhean is no sweet-faced fairy godmother.
(Note from Meg: Heh. This is a major understatement. Sexy!)
The struggle here is with grief and finding a reason to live. While love can certainly light a spark, it cannot save you, not when you are filled with this much despair.
This is what the typical Cinderella stories miss — that it was a tale full of sorrow and not about being noticed in a pretty gown. How do you go on when everyone and everything you ever loved is taken from you? Is it reasonable to expect Ash to be excited about a prince she has never even exchanged a word with? Her stepsister Ana sees him as a financial solution to her woes (money and prestige will fix everything).
This would be the Gossip Girls solution to life in the 21st century. But Ash must find a way to simply bear living without her family and it is that pain which makes faerie — even with the harsh price paid to gain entrance there – so appealing.
Happily ever after is so much more complicated than the princess stories would have us believe. Lo knows this, and she makes sure that her readers know it as well.
Ash is a very subtle tale of grief and longing that requires a quiet read; it is not about hot passion so much as a cool appraisal of life's tragedies and decisions to survive. There is a happily ever after here, but it is found in Ash's decision to live and love and find happiness. That she makes unconventional choices will just endear her even more to her readers and elevates Ash high above the standard fare.
Read this one as the leaves fall and the weather changes; it is a perfect autumn tale that will haunt you long after the last page is turned.

I couldn't have put it better myself (which is why I re-posted it here).
There's a twist to Ash that it isn't revealed here. I'll leave it to you readers to discover it as you read, because it's much better if you don't know.
Enjoy.
More later.
Much love,
Meg