BRAZIL!
WHERE I HAVE BEEN: Rio de Janeiro!
WHY I HAVEN'T WRITTEN IN SO LONG: Because I have been in Rio de Janeiro!
WHAT'S GOING ON HERE: You seriously wouldn't believe it I told you. Do you know what time people eat dinner here? 10PM. Yes, 10PM. EVERY NIGHT. The car comes to pick us up at 9 for dinner.
A (very) BRIEF SUMMARY: I'm at the XIV Rio de Janeiro International Book Fair (Bienal do Livro)!
First of all, thanks so much to all the girls who advised me on what to wear! You were completely right, and because of you I have almost TOO many perfect outfits (my suitcase weighs 79 pounds)!
The weather here is totally beautiful. I already put in my requisite pool time and had a caipirinha (or two).
As for the book fair, I haven't seen Bono yet but I heard a rumor he's arriving to the fair via helicopter any minute (all the really cool Cariocas–that's Rio natives–go everywhere via helicopter, to avoid the traffic).
EDITED LATER TO ADD: I have been informed that even more people take helicopters in Sao Paolo. So, Rio is not the helicopter capital of Brazil. My bad.
I haven't been in a helicopter yet, but I got driven to a fancy restaurant in someone's bullet-proof car! SO FANCY!
(I was just kidding about Bono, but he did come to the book fair one year, and via helicopter.)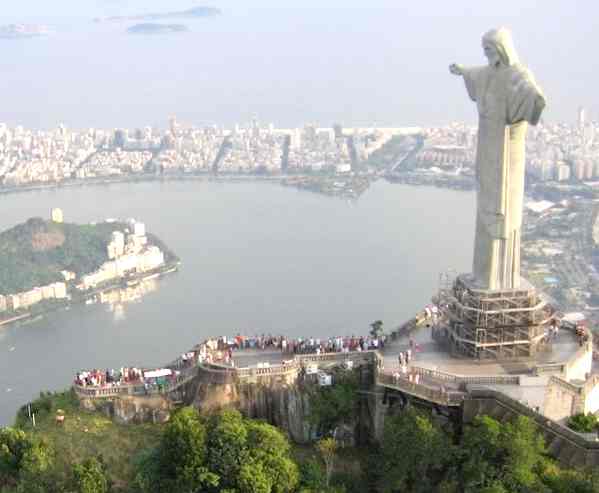 Random photo of Christ the Redeemer, which is totally destroyed in the new movie 2012, out this fall
So far, I have been to Ipanema, Copacabana, and Bahia (sp?), and they were all GORGEOUS.
I would totally move here except a) I still no fallah Portuguese (except for "obrigada," which means "Thank you"), and b) I would have to have a place looking out on the beach, and that would cost about nine million R$ (the financial unit here).
I really don't know what to say about the Bienal do Livros! It is completely insane, and only gets more insane and crowded every day. They expect 650,000 people! They have to transport the authors on a golf cart (sometimes guarded by big security men if fans are screaming too loudly for autographs) from place to place because the fair is so big!
Of course my readers are completely sweet and kind. I don't think I've been kissed so much, or given so many gifts! Here's just one early example:


(I think that screen shot of me with my eyes closed is particularly attractive)
I have many more examples to come!
The best part about Rio right now is that every single person I've seen is holding….
…a book!
It's freaking fantastic!
Also fantastic is that apparently this blog got nominated for Best Author Blog in honor of Book Bloggers Appreciation Week!
You guys are so sweet. Thank you so much! Thank you too to Amy for holding an event that must be so time consuming and is obviously such a labor of love for her.
You can check out all the nominees (and discover some awesome book blogs) here! This is where you vote ….
…but because all the blogs are united in their love for and encouragement of reading, all of them are already winners, in my opinion.
And here's an interview ever that I did with The Examiner just before I left for Brazil (you can get a sense of how crazed I've been lately)! I love The Examiner!
I can't wait to keep you updated on everything else that's going on, but I seriously don't have a minute to myself here. All I can say is I LOVE YOU ALL.
And now I'm off to go see some monkeys.
(No, I'm not kidding. I told you that you wouldn't believe me if I told you. And seriously, the monkeys, are just a tiny part of it).
LOVE YOU
More later.
Much love,
Meg
PS Edited to add: I SAW THREE MONKEYS! IN THE WILD! NOT IN A ZOO! ONE WAS A SWEET BABY MONKEY ON ITS MOTHER'S BACK!
And this was in the middle of the city. Well, sort of.
PICTURES TO COME!