And Then Everything Unraveled
This weekend when you're baking on the beach (or the pool, which is where I intend to be—ha, psych to any editors who are reading this…no, actually I'll be inside in the AC working on the book I owe you even though all my friends are making fun of me because I'm getting so pale), don't be all:
"Meg Cabot didn't tell me about any good books to read on her blog this week!"
Because I'm totally coming to bat for you with And Then Everything Unraveled by Jennifer Sturman, which you're going to love….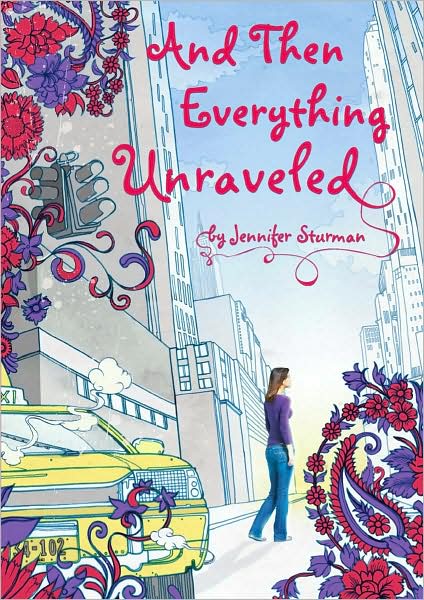 …even though the cover sort of makes you wonder, what is this book about, exactly? Why is this girl wandering down the middle of the street? Will she be hit by a bus if she doesn't start looking where she's going?
The answer is no, and trust me, I'm not the only one who liked this book. All these bloggers and booksellers say it's good, too. And so does Publishers Weekly. Check it out:
And Then Everything Unraveled Jennifer Sturman. Scholastic/Point, $16.99 (256p) ISBN 978-0-545-08722-3

Sixteen-year-old Cordelia (Delia) Truesdale is forced into the role of private detective when her genius mother, founder of the Internet company TrueTech, disappears on a research trip somewhere between South America and Antarctica. Delia is sent, against her will, from her home in Silicon Valley to Manhattan to live with her dramatic and charming Aunt Charley ("It would be a while before I realized that just about everything Charley did turned out all right," Delia says). Meanwhile, her uptight Aunt Patience has been left in control of Delia's schooling and social schedule. Despite having her life turned upside down, Delia remains logical, stubborn and focused on proving that her mother is still alive. Delia contacts both a psychic and a private detective as she attempts to solve the mystery and determine the culprit, who could be anyone: her mother's trusted assistant, Thad; oil company executives; or her crush's father. Mystery novelist Sturman's (The Hunt) YA debut treats readers to intrigue and taut dialogue, and while Delia does get some answers, the "to be continued" ending leaves the door wide open for a sequel. Ages 12–up. (July)
Basically And Then Everything Unraveled has got it all: humor, mystery, romance….
So don't say I didn't tell you so.
Oh, and wear plenty of sunscreen.
More later.
Much love,
Meg