Book Lovers Unite!
Do you love books? Of course you do!
Then you should know about this online book auction for a young YA author/teen librarian who has cancer. I've bid on a book (one of my faves, Catherine Called Birdy by Karen Cushman).…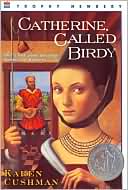 Stop by and check the auction out! You might find some of your favorite books, signed by some of your favorite authors. In addition to bidding, I've also donated a complete signed set of the Princess Diaries. Please place a bid for this this worthy cause!
Speaking of books, if you're heading off to sleep away camp or know someone who is, don't forget to pack her a copy of Sleepaway Girls. It's the Ultimate Sleepaway Camp book…very cute!
And if you're looking for something for someone who likes her reading a little less light, I'd recommend The Chosen One by Carol Lynch Williams.
The Chosen One is about a young girl trapped in a weird fundamentalist cult. Since I'm obsessed with the show Big Love, this was a must-read for me….
…but this book is much more serious than that show! In fact, it could almost qualify as a "freezer book" (remember on Friends when Joey put Little Women in the freezer because he got so scared for Beth? Well, The Chosen One has parts where you'll want to put it in the freezer)!
I highly recommend The Chosen One for a chilling summer read (not just because of the freezer parts. You can read about them in this great review/interview with the author here).
Okay, so moving on to the TOTAL OPPOSITE of a girl trapped in a polygamist cult:
What did you think of Glee????
If you missed it you can watch it here!
I'm so excited about it! Why do we have to wait for Fall for the rest of the episodes?
But at least there will be one show I like on in the Fall! They've cancelled so many shows I used to watch, like Life and The Unusuals (which was brand new but I liked it—it had Amber Tamblyn in it)!
Of course, there are lots of other shows I watch (How I Met Your Mother and The Office and Friday Night Lights, etc) that aren't cancelled…here's a cheat sheet of what's cancelled and what's not.
Oh well. At least we've got Kathy Griffin and Tori starting up soon!
Finally, guess what?
I've got another Being Nikki mini-book trailer for you!
Enjoy!
More later.
Much love,
Meg