The Day After
Happy St. Patrick's Day!
I hope you're wearing green, even if you're not Irish…it's lucky, you know. And we all need as much luck as we can get these days!
I had my Friends of the Library event last night with Judy Blume and though I do say so myself, I think it went pretty well!
(I wish I had some photos, but a camera is the one thing I forgot to bring with me–although I did remember my pens, Listerine Pocket Packs, lip gloss, and compact. And no one has emailed me any of their photos yet.)
Strike the above: I finally got a photo courtesy of Conch Color, and here it is!

Judy Blume and Meg at the Studios of Key West Friends of the Library event
So many people showed up that we had Friends of the Library sitting on the floor! I think it might have been a Friends of the Library world record for attendance.
Also a world record of sweating for me since they had to turn off the air conditioning so we could be heard. I was shvitzing like a pig due to the fact that I had to wear a long sleeved Lilly Pulitzer sweater to cover the unsightly armpit sunburn I received the day before (I always forget to put sunscreen there).
Anyway, we talked lots about "craft" and "process" and Judy revealed that she got her start writing for men's magazines under the name Gabriel Horne (only not really because she never actually got any of those stories published)….
…and I revealed that I've actually written books I secretly hate (only it's not the books themselves I hate, just the memory of writing them, where every day sitting down in front of them was such torture, for unknown creative reasons. Conclusion: Occasionally, you just write a book you hate. RL Stine and I talked about this when I had dinner with him the other night as well. Oh, and his wife Jane? HUGE fan of The Wire. YESSS).
Then we answered a lot of questions and signed some books and went out to dinner with Judy's grandson Elliot and his girlfriend and then I came home and watched four episodes of The Wire in a row until my eyes were crusted slits and He Who Shall Not Be Named In This Blog made me go to bed.
And now I realize I no longer fear the zombie apocalypse, only the war on drugs, standardized testing in schools, and urban blight.
Anyway, one of the questions I always get asked is how much of Allie Finkle is based on me.

The answer is: All of her! Seriously, I:
–Moved to a weird old house in the middle of town that my mom and dad bought to fix up.

–Got a tiny kitten as a bribe for being "mature" about moving into the weird old house.

–Have two little brothers who used to drive me crazy (one of them still does).

–Walked to school with my best friends who all lived really close to me.

–Ate lunch at home every day. Was jealous of everyone who got a "hot" lunch at school.

–Had to sit in the back row of class with the "bad" boys in the hope I would be a "positive influence" on them.

–Played games of make believe at recess, NOT chase-and-kiss the boys.

—Freaked out when a girl from Canada came to our school and suggested we play chase and kiss the boys. Why would I want to kiss those bad boys?
You see? Very little of Allie's life differs from mine. I even—as has been frequently pointed out to me by the people I work with at my various publishing companies—like rules, just like Allie. To this day I always want to know what the rules are, like:
PRECISELY what time I need to show up, and at
PRECISELY what location, and
PRECISELY what I will need to say when I get there, and
PRECISELY how many people are expected be there, and
PRECISELY what I will need to wear, and
PRECISELY what time I will need to leave to get to the next event, etc.
I don't think I get that upset if anything deviates that much from the rules. Like Allie, I understand that sometimes rules get broken and you just have to with the flow.
But if there is something I can do to keep this from happening, I seriously try to do it, and sometimes I do put pressure on other people to do it, as well. For instance, if I could fly the plane myself, I would (Judy Blume's daughter Randy is an ex-pilot. How cool is that? My accupuncturist/doctor is ALSO a pilot. If I could fly my own planes, my life would be GOLDEN).
My reasoning is, if one thing goes off schedule, then everything gets messed up.
And then my head will explode.
Some people call this being a control freak. But I just call it being me.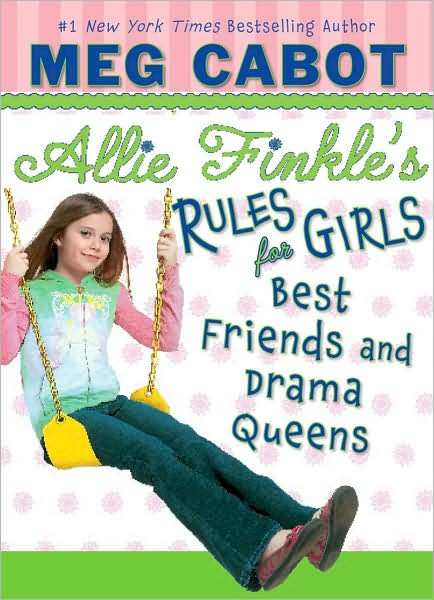 Anyway, now I have to go catch up on all the How I Met Your Mothers I've missed (I love the "Karen" plot…who didn't know a horribly pretentious girl just like Karen in college? OMG, I knew someone exactly like her and we all couldn't wait for our friend to dump her and he never would…) and also The Real Housewives, etc.
So much TV, so little time….
Oh, and I'm working on Allie Finkle #5, too (for the scoop on #4, go here) as well as more Heather Wells….
Stay tuned for a sneak peek at Being Nikki, too, coming soon!
More later.
Much love,
Meg