World Wide Tour Part Five, Johannesburg and Hong Kong
First of all, happy birthday to He Who Shall Not Be Named In This Blog, who will never read this.
Yes, it's my husband's birthday on October 5, and I'm halfway around the world! I did try calling him but the first time it wasn't his birthday yet (it wasn't until twelve hours later in the US) and the next time, I woke him up.
This time thing is very confusing! I don't know how I'm supposed to keep track of it when practically every morning, I wake up in a different city. Now I know how musicians on tour feel.
Sorry blogging's been so spotty, but my publisher is keeping me very, very busy. On all the days when there aren't signings that are open to the public, I don't get to laze around in bed or go shopping or sight seeing–I'm visiting schools and having press interviews in the hotel. I'm up before seven almost every day (okay, don't laugh, for me that's freakishly early) and rarely back in my hotel before bedtime.
I even had a stock signing at the airport before one of my flights!


Look at all my new friends!
Honestly, I can't believe I was even in Hong Kong. I'm just a small town girl from Indiana. What was I doing in Hong Kong?
Here's picture of the view from my hotel window in Hong Kong.

It's kind of sad when the only photos you have are from you're hotel room, right? If anyone has any pictures from my Hong Kong signings, please send them! I was too busy to take any!
Anyway, second of all, congratulations to Louise Rennison, who got crowned Queen of Teen! All the nominees are absolute queens, if you ask me. Thanks to everyone who voted for me, and to the Book People for sponsoring such a lovely event (I wish I could have been there, but I was in South Africa)!
I'm actually in Singapore as I write this (come see me at Borders Wheelock, #01-00 Wheelock Place, 501 Orchard Road, Singapore, 238880 on October 6th at 6PM!) but I wanted to say what a lovely time I had in Johannesburg, where I attended multiple school signings and Princess Parties at Exclusive Books and met so many wonderful readers (and publishing people)! Also, I had a great time in Hong Kong, where I got to meet tons of fabulous would-be princesses. Everyone was so warm and enthusiastic. I couldn't have had two more delightful visits, even if they were way too short.

What a book signing looks like–from the author's perspective!
I know you're all dying to know how my signing at the Oprah Leadership Academy for Girls went. Well, it was great! The girls put on a little performance of their own, including a skit from the Princess Diaries! It was fabulous.
Before my signing, while everyone was getting seated, the Leadership Academy choir performed. Oh my God! You know when people who've practiced singing together enough achieve a sound that's almost like a bell ringing, it's so clear and pure and true? (This was the sound my choir teachers were always trying to get us to make, but I don't know that we ever did.)
Well, that's the sound the Oprah Leadership Academy for Girls choir made as they sang! It was so beautiful it actually made me cry at little (which was quite embarrassing. I pretended like my overflowing eyes were a symptom of this wretched cold that still hasn't gone away. I had to re-do my eyeliner). I would have been happy just to have sat and listened to them sing all day, but sadly, I had to get up and speak.

The gift I received for speaking at the Oprah Leadership Academy for Girls! Don't you wish you had one too?
What can I say about the school? Of course it's fancy–what else would you expect from Oprah?—but in a completely African way. For instance, all the wood and the art in it is African (I was told that the money Oprah paid the local female artisans for some of the art in the staff lounge enabled the artists to buy their own homes).
Hey—I like fancy. I like things that are high quality and are going to last forever (although over the top plastic things with sparkles and feathers on them are fun sometimes too). So I completely understand why Oprah went the fancy route.
The whole point of the Academy is to provide an education (and place to live) for deserving girls in need. Next year, Oprah is apparently admitting even more girls (there are over 200 now…the girls are selected after a long testing and screening process which includes interviews with Oprah herself).
But I don't want you to think it's all choir practice and reading for these young women! After my signing, during which all the girls (including those visiting from other schools nearby) asked great questions, some of the students got on stage and started practicing for their hip hop dance competition, which was going to take place the following night. We're talking Dancing With the Stars dancing, complete with flips! The music was deafening, but when someone in the sound booth dared to turn it down a little, you should have heard the groans from the girls. Back up went the volume.
After each routine, all the girls cheered for one another. These are young woman from all different cultures and backgrounds (there are eleven officials languages in South Africa), many of whom have suffered real trauma back home, who nevertheless are able to put all that aside and bring it on the dance floor, and support and encourage one another while doing so.
I think I would like to attend the Oprah Leadership Academy (even though there are no boys there) someday.
One of the things all the girls wanted to know was, Had I read any good books lately? (besides my own, of course.)
Well, I haven't read this new Fall release, but I've been meaning to—Chalice by Robin McKinley.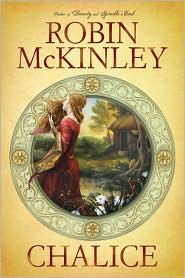 I love Robin McKinley, who wrote one of my all time favorite retellings of Beauty and the Beast, Beauty. Robin always creates strong but totally relatable heroines, and her writing is just gorgeous (and if you like vampire books, I hear her book Sunshine is not to be missed). I can't wait to get my hands on Chalice.
But who knows when that will be, since right now I'm going to have my hands full just getting through the rest of this week, with book signings in Singapore and Bangkok.
(I can't believe I just wrote that. Singapore? Bangkok? ME???)!
If you live in or near either of these cities, you'd better come see me!
Who knows, maybe your picture will end up on this blog.

Hi, St. Andrews Girls! (PS Told you I'd post it!)
More later.
Much love,
Meg