New Look
Hi! You might notice (if you've emptied your cache lately) that there's a new look around here.
That was my rockin' web crew over at Hanee Design. I had nothing to do with it. I'm in SWEDEN. People here speak a different language, but if you go, "Do you speak English?" they'll switch right over to it with no problem. (Also, if you give the desk at your hotel $50, they'll give you HUNDREDS of kroner in return. I'm rich now.)
Anyway, while I'm signing books at the Gothenburg Book Fair, have fun visiting the Princess Diaries Volume 10, Forever Princess page, as well as a little something I like to call—well, Princess Mia's personal website (because that's what it is).
Don't forget to visit Mia's Myspace (her friends are still updating theirs) and of course, stop by and Visit Genovia anytime!
Have fun.
So, about Sweden:
It really is true–Everyone here is nice. Everyone here is attractive. And boy, do they like to conserve energy! I can't even turn the lights on in my hotel room unless I insert my key into this special slot (which is cool but a bit tough when you're staggering around in the darkness, trying to find the slot).
I'm here with Cecily von Zeigesar (Zeye-gah-sar), author of the Gossip Girls (sadly, no TV show inside news, but I'm TRYING) to do some events at the book fair.
So far, we've just done one TV news interview where a journalist attacked us for using too many brand labels in our books. Apparently, we are destroying the fabric of society!
Never mind, I guess, that our books are meant to be humorous entertainment while at the same time empowering to girls, and that the journalist's focusing on the brand name thing in her interview undercuts that important and powerful message.
I didn't see the final piece. Maybe the journalist will pull it together.

PS My current bag is by Stella McCartney and 100% polyester and I LOVE it. So light! And I cram it with gluten-free snacks, all my makeup, a pair of shoes, AND my laptop. No joke.
Anyway, so how come no one told me about Jim and Pam?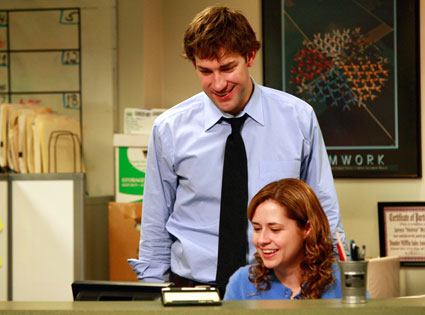 OMG!
People have been asking me what He Who Shall Not Be Named In This Blog has been up to while I'm on this book tour. Well, he really wanted to come with me, but a month away is quite a long time and someone had to stay home and guard the house from hurricanes (and also keep the cats from killing one another).
Plus, HWSNBNITB has a project. He is removing the eighties-style glass bricks from our master bathroom (think Don Johnson's apartment in Miami Vice) and putting in the whirlpool jet bathtub I have always longed for, to soothe my wrists which are so tired from putting so many motherchucking brand names in my books (he is not doing this by himself. He has some hired help for the hard stuff).
Recently he sent photographic proof that he has actually embarked on this project after telling me for three years that he was going to go to Home Depot and start on it at any moment, something I think wives hear quite often:

(Apparently I am also getting a new sink to match the tub. All I can say is please God let it be finished by the time I get home. Or at least by Christmas!)
Gem is apparently very angry with the disruption and refuses to come out of this box:


And never have I seen a crankier expression than the one on Henrietta's face (note unmade bed. It looked like that when I left over ten days ago. I have no comment on the bed. But I understand the cranky expression.)
So, yay! New bathroom! I can't wait to get home.
Also, yay! New website! You'll be seeing new stuff added up until Forever Princess's release. Enjoy!
I'm off to the book fair, and then to SOUTH AFRICA! Hope you'll stop by….
More later.
Much love,
Meg