Kit-Kitty-Kitty
Did you see Queen of Babble Gets Hitched featured on Good Morning America today? What about in Parade Magazine on Sunday? Well, here's a link in case you missed it (there are some other books on there that sound really good, too)!
–Speaking of which, how excited am I for Michele Jaffe's new book, Kitty Kitty, the long-awaited sequel to Bad Kitty, which comes out July 1? VERY EXCITED. I'm still waiting for my copy to arrive, but the illustrious YA YA YAs got an advanced reader copy (luckies), and they gave it a
rave review!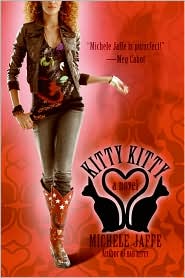 I also can't wait to read Michele's first manga, featuring an all new adventure with Jas and the gang, in Catnipped!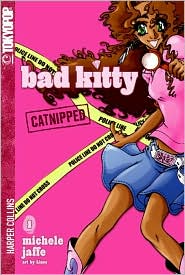 –Here's some more book news, but it's not happy: Reader Jen writes from Cedar Rapids, Iowa, that the main library there has lost two-thirds of its collection to flooding, including all the YA books! Jen says:
It's incredibly sad to me for many reasons — because when I was a kid my family made a monthly pilgrimage to the Cedar Rapids Public Library to check out vast quantities of books; because as a reader it's just sickening to see so many books lost; and because I worked at the library as a teenager and know every inch of the currently filthy muddy building.


Anyway, obviously lots and lots of awesome book-loving people read your blog so I was hoping you could possibly include a few lines about the library and information on donating. They are NOT accepting donations of books and media — they just don't have any place to store it — but need any financial contribution that people can spare, no matter how small. Plus it's tax-deductible!
More information is available in this article. Thanks for taking the time to read this!
And thanks for taking the time to let us know about this, Jen!
If you want to make a donation, mail your contribution to the Cedar Rapids Public Library Foundation. All donations are tax deductible and needed! Mail to 500 1st St. SE, Cedar Rapids, IA, 52401.
Please help if you can, readers! There's nothing worse than a town without a library…except a library without books. So sad!
–So I'm writing this from the Conch Flyer Restaurant at the Key West airport because I'm off to a studio up north (Ft. Lauderdale to be exact) to do TV satellite interviews on Tuesday for Queen of Babble Gets Hitched. If you're flipping around on your local morning news shows Tuesday morning (or later in the week), you just might see me (I'd post the exact times and stations I'm going to be on, but many of them are pre-taped to air whenever the stations feel like it).
–I'm so excited about the American Girl movie, Kit Kittredge!


I personally can't wait until my nieces are old enough for me to start buying them American Girl stuff. Some people think the American Girl dolls have gotten "commercial," but I don't. $90 is a lot for a doll (and book), it's true, but that's why there are so many different ones—each girl can find the one doll that speaks to her and then she can befriend girls who have the other dolls and they can play detect-the-serial-killer, or whatever.
I just love that American Girl has a doll beauty parlor in their stores where any doll owner can bring her doll for repairs/beautification, providing a great source of entertainment for people like myself, who like to go and watch the "beauticians" employed at the doll beauty salon nod sympathetically as they listen to the girls describe the horrible hair accident that happened to their dolls' head, and how they want it fixed.

Not to mention the American Girl café where girls can dine with their dolls (and family members). They have gluten-free menus available, including gluten-free birthday cake!

Finally, the girls learn about history through the books about their dolls (123 million in print and counting). Can you say that about Bratz? No. You cannot.
True, there was the great American Girl scandal of 2005, when American Girl donated money to Girls, Inc, enraging a certain segment of the population who believes Girls, Inc has a radical leftist liberal agenda. But American Girl did not back down, despite protests.
Obviously, what with the beauty parlor, the gluten-free menu, and Julie, the new hippie doll, some may still suspect there is a radical leftist liberal agenda at work at American Girl.
Which means Abigail Breslin must be American Girl's Che Guevara!


This is undoubtedly true, especially since Kit is teaching girls to be, in the words of The New York Times, "brave, smart, determined and kind, but never off-puttingly full of themselves or intimidatingly superior". A.O. Scott of the Times muses that his daughter's American Girl doll becomes, at varying times, "an athlete, a musician, a clothes horse, a bookworm, a pet owner, a loner and a confidant." In other words, a typical American girl. Nothing wrong with that, if you ask me.
–Mark your calendars…we'll be having our first live chat in months on Sunday, July 20 at 4PM! We'll be chatting about Queen of Babble Gets Hitched and whatever else people want. I may even spill some spoilers for Allie Finkle's Rules For Girls: The New Girl (due in US stores in August) and possibly even Princess Diaries 10….
Now check out Michele Jaffe's Kitty Kitty book trailer…then go to her YouTube channel!
More later.
Much love,
Meg