Research—Who Says Learning Can't Be Fun?
A lot of you email me with questions about writing books, such as: How do you write a book? How do you get a book published? Is it important to get an agent? Have you ever put one of your books down your pants to celebrate getting it published? etc.
In this entry, I'll attempt to answer one of the questions I get asked most frequently, which is:
Do you have to do research when writing your books?
The answer is:
Yes, I do have to do research when writing my books.
But before I get into that, a brief comment on the Airhead tee shirt contest: It's over. Winners have been notified via email. If you weren't notified (check your junk mail box, too), you didn't win this round. But don't give up! We had hundreds (if not thousands) of entries, and they were all really good. It was nearly impossible to choose. And there will be more Airhead tee shirts given away soon (sorry, they are not available for purchase), on my site as well as others (check The Compulsive Reader and Book Chic…Book Chic's give away is coming soon).
I'll be giving away copies of Airhead the book, in addition to more tees, to a few lucky readers here, as well as in future entries of this blog. So keep coming back!
Now, back to research:
For Queen of Babble Gets Hitched, which will be out in late June, I had to do a great deal of research on the history of weddings, for reasons that will become clear when you read it.
For Allie Finkle's Rules for Girls, The New Girl, I had to research non-violent conflict resolution (also self-defense techniques, in case the non-violent conflict resolution didn't work out).
For my new book, Airhead, I had to do research on a surgical-related topic. Sadly, revealing the nature of that topic would give away a big spoiler about the book, so I can't tell you what it is.
Instead, I'll post this picture of Blake Lively and Penn Badgley, who play Serena and Dan on the show Gossip Girl (and to whom something tragic happened in last night's season finale). This picture was taken during their recent post-filming, NOT romantic getaway to Mexico (they claim they're not a couple):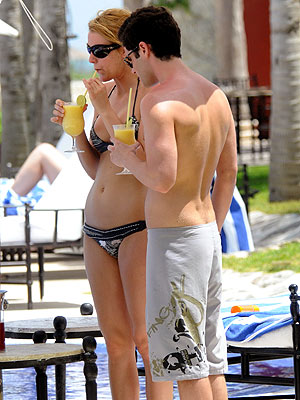 Remember: These two claim they aren't dating.
As I am currently writing the sequel to Airhead, Being Nikki, I find myself doing research of various kinds. For instance, since a lot of the book has to do with fashion, corporate greed, bio-medical ethics, and modeling, I have been conducting some of my research by perusing this month's many entertainment and beauty magazines.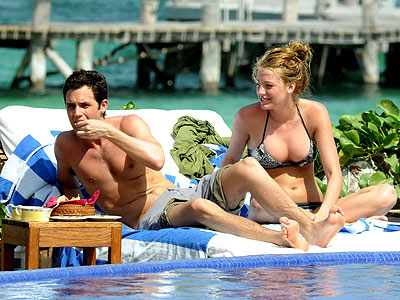 Blake and Penn: Not dating. Just eating nachos.
From these magazines, I have gathered the following:
–Skin cancer doesn't always just manifest itself as a weird looking mole. It can also look like a shiny spot, or even a rough patch on your skin that won't go away. If you have either of these things, go see a dermatologist right away (my appointment is next Wednesday).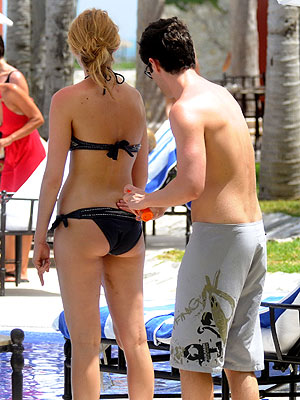 Blake and Penn: Just putting on the sunscreen. Not dating. Not dating at all here.
–I've also learned that everyone is excited about the new Sex and the City movie. Even some men, including He Who Shall Not Be Named In This Blog. When I said I was kind of bummed we're in Key West and not in New York, so I wouldn't be able to see it with my friend Beth, he said, "What about me? I want to go see it! I want to see what happens with Carrie and Mr. Big!"
So I'll guess I'll be going to see the biggest girlfriend movie of the summer with…my husband! Which is fun, too.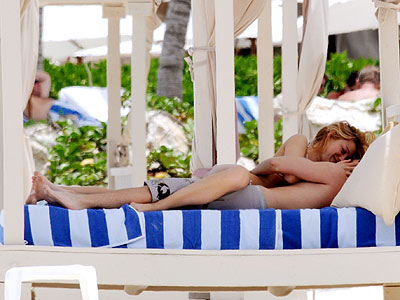 Blake and Penn: Hello. Still not dating.
–All the magazines are saying we need to read Jen Lancaster's Such a Pretty Fat. I actually got a sent a copy of the ARC this book, but I didn't have time to read it. And now I can't find where I put it. Check out the hilarious YouTube video that goes along with this book. So cute!
My favorite part is when she uses sand in her mouth as an excuse to get out of working out. That sounds like something I would say. I want to read this book so much now, I am actually going to go BUY it.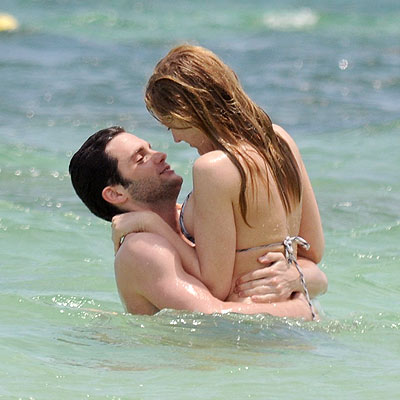 Blake and Penn: ONE HUNDRED PERCENT NOT DATING.
–The magazines are also saying we should be sure not to miss the new MTV series Exiled! Exiled! will follow eight My Super Sweet 16 girls who — at the behest of their parents — were transplanted to primitive tribes around the world to eat, sleep, and experience the lifestyle of the teenage girls who live there year round.
MTV enlisted the United Nations and other nongovernmental organizations to help determine the "indigenous tribes" used for the show (when I was in college we were encouraged to use the words "ethnic groups," not tribes, but I guess whoever writes MTV's press releases didn't go to IU, so didn't learn this).
I would also like to add that if you're ripping off your investors, don't go on My Super Sweet 16, like this girl's dad did. Busted! I bet there are a lot of people who'd like to see her turn up on Exiled!
–Meanwhile, I saw the trailer for the new 90210…haven't I seen this show before? Isn't it called…South of Nowhere? And it's on the N? Or am I being too harsh?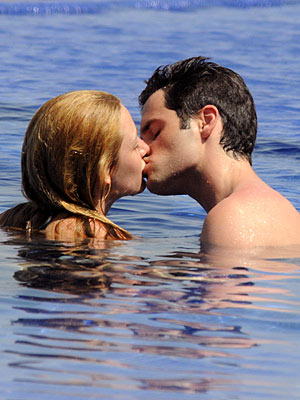 Blake and Penn: STILL TOTALLY NOT DATING.
–Skin cancer aside, sunlight (in small doses) is good for you. Because it helps your body make vitamin D, and vitamin D is essential to combat (and help prevent) certain kinds of cancer, diabetes, and even multiple sclerosis.
But not when it comes from a tanning bed!
Did I mention the cancer my dad died from started out as skin cancer? So while sitting in the sun is my favorite thing in the whole world (literally–I freak out when the sun doesn't shine for more than a day, which is why I had to move to Florida), I totally only do it for about ten minutes at a time without sunscreen. The rest of the time, I slather on the various SPFs (15 for some parts, 45 for others), and depend on Jergens Natural Glow to make up the difference.
So love the sun, because it loves you. But be sensible about it!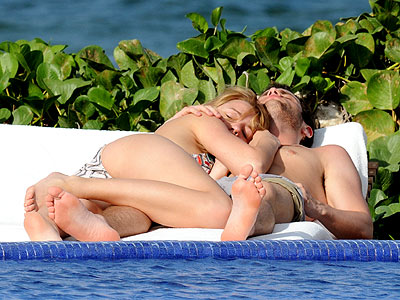 Blake and Penn: Awwww…It's so cute how they're not dating!
(Don't the bottoms of his feet look soft? Oh, Penn!)
See how fun researching your book can be?
More later.
Much love,
Meg