Read This If You Want to Live
I am writing this from Minnesota where I just gave a speech to like 400 fantastic, enthusiastic, hilarious librarians. Go librarians!!! If you haven't done so already, hug your librarian today.
I'm giving another speech tonight at the Hennepin County Library in Minnetonka. It is true what they say about Minnesota…cold country–but very warm hearts!
But for those of you who can't make it, I have a new video blog up and it involves me playing with dolls again. You can see it here.
And here's a fantastic interview by TeenBookReview.com!
Thanks for your requests for AIRHEAD advanced reader copies!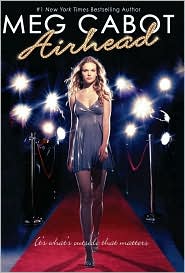 At this time we're out of ARCs. The rest of you? You're just going to have to wait for the real thing (I promise it will be worth it)!
In the meantime, I hope you've all snagged a copy of E. Lockhart's The Disreputable History of Frankie Landau-Banks. I haven't gotten a chance to read this yet, but Little Willow's review made me want to so badly! Hopefully I'll be able to snag a copy for the plane ride home.

In other news, a recent study by Emory University showed that people who have gum disease have a mortality rate 23-46 percent higher than those who don't.


So floss if you want to live.
Also, one third of people aged 100 or older watch reality television. One quarter of them watch MTV or music videos, and some even surf the web and use an iPod. What does this prove?


The key to a long life (besides flossing), according to research, is staying interested in popular culture and current events–as well as maintaining an active and healthy lifestyle.
So the next time someone rags on you for watching (or reading) "trash," tell them it's been scientifically proven to help you live longer!
Speaking of which, my favorite reality shows at the moment are What Not to Wear, Say Yes To The Dress, Bulging Brides, Intervention, The Hills (yes…they finally got to me….Paris was so fun! But I hate that Spencer, oh my God), and whatever else is on that doesn't involve Simon Cowell and bug eating.
OK, gotta go put on my fancy clothes. See you at the signing!
More later.
Much love,
Meg
PS I totally saw creping of my neck in the mirror in the airplane bathroom. The horror. The horror.