There's still time to shop!
So last time I wrote about what I wanted for Christmas. Here's a list of what I'm getting other people (it's okay, none of them read my blog):
For my nieces, who are four and three, and love to dress up as princesses, I found these fun princess dress up clothes at My Fancy Princess. I know they're nice and come in a really pretty box because I accidentally sent the box to myself. Guess your present from Aunt Meggin is going be late this year, girls!


Yes, it's a little disturbing all these girls are blonde. But try not to think about it. The dresses are so cute (and come individually as well as in sets)!
Here's an idea for boys (and non-princessy girls): When He Who Shall Not Be Named In This Blog's nephews came to visit us at the Barn House in Indiana this summer, I bought them a bucket and some nets on long handles from the bait shop (but you can get them at the pet store) that looked like this: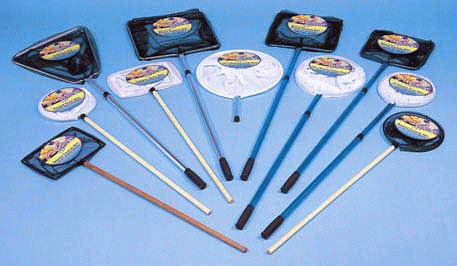 And then we sent them out to the pond to catch frogs (with an adult escort). And guess what? They totally caught one (we made them let it go at the end of the day).
Now, I wouldn't recommend you do this in the winter time because of the whole falling-in-the-ice and possibly freezing to death thing (plus, the frogs are all hibernating or whatever then. And the police might arrest you for child endangerment if you send all your nephews into the bitter freezing temperatures to catch "frogs" this time of year, however sorely tempted you might be to get them out of the house so you can have alone time with your hot buttered rum).
But you can give them this stuff as a present, maybe with a book on frogs, with a promise you will take them to the lake or whatever to look for frogs when it warms up, and you will look like a totally cool aunt.
Although truthfully all they want is an Xbox.
Everyone else I am shopping for is getting books, music, or DVDs. Here is one book I've already blogged about but it bears repeating because it's so darned good: Hyper-chondriac by Brian Frazer made me laugh and then it made me cry, but in a good way.


I wouldn't get it for your grandma, though, unless she likes memoirs with swearing in them, and guys punching other guys out (in a funny way).
Another memoir I enjoyed this year (I read a lot of memoirs, because when I read for pleasure I like to read out of the genre I write in) was called Happy Birthday or Whatever by Annie Choi


It was funny, too, only it didn't have quite as much swearing as Brian's book. Still, unless you have a very hip Grandma, I'd save it for your cool friends and sister-in-laws. You can check out Annie's blog and see if she'd be okay for your loved one first.
Another book I loved this year was Beauty Confidential, which was written by a beauty magazine editor who got fired after her bosses found out she was also writing a secret blog (jolieinnyc) where she was dishing the real truth about beauty products and all the swag she was getting from her job.


I liked this book because the author fessed up to what I've long suspected: that a lot of expensive beauty products do nothing, and that the cheaper stuff you can buy in the drugstore is just as effective, if not better. Case in point, my favorite, Cetaphil cleanser (Number One most recommended cleanser by dermatologists).
Also, whatever, she likes the same celebrities I do, and it's just an awesome, dishy read. Buy a copy of this book for yourself and buy another for your best friend, your boss, your assistant—heck, every girl you know who likes makeup and dish.
Moving on to DVDs, I mentioned North and South earlier this week, and my editor, Carrie, says Elizabeth Gaskell's other book, Wives and Daughters, is also excellent. So by all means, get that for someone, too. You can buy both at most online DVD retailers. Carrie also says that Elizabeth, who was married, would take off every summer for her Italian villa with her boyfriend, and it was there that she died of a heart attack in the arms of her lover, to her husband's great surprise. Go, Elizabeth!
I was trying to think what else you should get, DVDwise, besides the obvious (SUPERBAD and SEX IN THE CITY), and it occurred to me I've never told you to buy the greatest movie of all time,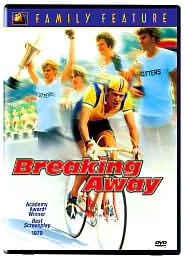 Breaking Away, the movie shot in my hometown of Bloomington, Indiana in the summer of 1979, which won the Oscar for best screenplay and which stars my mom.
Well, okay, she doesn't star in it but you can see her in the courthouse scene when Moocher and that girl are going to get married. She's the bright yellow blob in the background!


So you totally have to buy this movie! Buy one copy for yourself, and another for someone else. Not only is my mom in it, but everyone else I know from back then is in it, too, including the house down the street from this one I totally used to make out in with this one guy all through college. Also high school. And a little bit after college too! The important thing is, we're still friends.
So buy Breaking Away. You won't be sorry. It's a totally sweet little family friendly film, and shows my hometown as it was before it was taken over by strip malls.
Music wise I don't know what to tell you, HWSNBNITB is the stereophile in the family and I am not allowed to pick anything to play on the house speakers, only my headphones, because my only prerequisite for music is that it be loud and preferably have swearing in it, whereas he likes Bob Dylan and Arcade Fire and all sorts of other stuff they like to talk about on CBS Sunday Morning.
However, this year I'm going to go out on a limb and recommend the soundtrack for Sweeney Todd with Johnny Depp, because how can that be bad? I used to love Stephen Sondheim (I listened to him a little too much when I was seventeen to love him now, although sometimes I still hum Amy's "Not Getting Married Today" song from Company), so if you've never heard him before, give him a try.

OK, I'm not actually getting this for anyone, but I want to so badly, so maybe one of you will know someone who you can get it for: FAO Schwartz has this thing where you can design your own gown or outfit and they will make it for you.


Yes, it is a Custom Couture Fashion Kit! Could you imagine anything cooler for a budding fashion designer? I can't. I sooooo hope one of my nieces wants it some day so I can get it for her!


Oooh, it's actually pretty expensive…maybe for a combo birthday/Christmas…..
Finally, I've heard there's this new book and it's out in stores ALREADY even though it's not supposed to be until December 26…people have spotted it, and it's paperback prequel, in Borders and Barnes and Nobles everywhere…what's it called again?
Oh yes….
Looks like you can ask for them for Christmas after all, since they're in stores now (and already steeply discounted! Cheeky booksellers)!
Good luck, brave holiday shoppers!
More later.
Much love,
Meg