Princess Mia
Check out what I just got in the mail yesterday…and no, it wasn't a Christmas present!
Author's copies of Princess Mia! Two giant boxes of them!
But that's not all. I got these, too:
For once, the paperback of the last Princess Diaries installment (Princess on the Brink) will actually be in stores at the same time as the new hardback! Cool, huh?
Here's what it looks like up close:

Good times.
Anyway, congratulations to Lindsay Marie (grand prize winner), Shanae, Kaitlin, Nicole, and Ariel, winners of this month's contest here at megcabot.com (winners got copies of Big Boned and were notified by email)!
If you're one of the thousands of entrants who didn't win, don't despair…there's always this month's contest…click here to enter to win a copy of Princess Mia.
Oooh, which just received a 5 star review (caution: some plot spoilers, but nothing major) from Teenreads.com!
Teenreads.com also just made Jinx, Pants on Fire, Prom Nights from Hell, AND Princess on the Brink (although technically this was a 2006 release) part of their Best of 2007 list, as well! Thanks, everyone! It's incredible to be part of such an awesome list.
To celebrate, I've posted something on megcabot.com many of you have been asking for quite a while…a looooong Princess Mia sneak peek, just in time for the holidays! Enjoy!
What else is going on? I mean, besides my left ovary hating everything, especially Rachel Ray, who I used to like, pre-right ovary removal? But I swear if I have to hear her say the word EVOO one more time, my head is literally going to spin off and fly out the door (is it my imagination or is she sort of starting to hate saying it too? You can see the cold loathing in her eyes as she looks into the camera: "E. V. O. Oh, I am going to kill myself if I have to say this one more time.").
Oh, but you know what my left ovary REALLY hates???


These Food Network claymation bobblehead FREAKS that I have to see every time a show on that channel cuts to break. My left ovary wishes I could reach into the TV and grab these things and shove them into my toilet and flush them down and watch them scream in terror as they swirl (especially Bobby Flay), because they aren't cute or funny, they just suck. I HATE THEM. THEY ARE RUINING THE HOLIDAY SEASON.
Okay, so, check out this cute interview the nice lady I was on Regis and Kelly did with me on her site recently.
By now you've all no doubt heard the shocking news concerning Jamie (aka Britney's baby sister) Lynn's teen pregnancy. If only we'd had Aliza's page up sooner. Oh, well! ***Added later***Although I think in a way it's interesting how the new trend is for young men to impregnate Spears girls Hollywood starlets, then try to live off the child support money. You know it's true.
***Added Later***There have been some questions about the wiseness of my blogging on Percocet but you know LEFTY ONLY SPEAKS THE TRUTH!!!***
Everyone keeps asking me what I want for Christmas, but the truth is I already got what I wanted (not to have cancer). Some people, when asked what they want for Christmas, reply, "Peace on earth. End to world hunger and global warming." Blah, blah, blah, blah. Aren't these things a freaking GIVEN? Don't we ALL want these things? How much more refreshing (and honest) to reply, as one woman did at a party a friend of mine attended in Manhattan recently, "I want a pair of brown suede slouchy boots with low heels" (if, indeed, that is what you want).
You know what I want? I want a snowflake necklace like Michael gave to Mia in Princess in Pink (Book 5) and which she stupidly threw across the room in Princess on the Brink (Book 8, out in paperback December 26, in case you forgot). I want it wrapped and under the tree Christmas morning (which is a joke because we don't even have a tree because I'm not allowed to lift anything over five pounds and He Who Shall Not Be Named In This Blog refuses to set up the fake white sparkle Christmas tree because he's always hated it, so he wins…this year).
Only I don't want any crappy sterling silver snowflake necklace like Michael got Mia. I want one that sparkles. A LOT.
So I started looking around for one, and let me tell you, with all the jewelry stores promoting these revolting "Journey Diamond Necklaces" these days (what the hell? Oh my God! Will jewelers never cease to think of ways to make us feel inadequate? Like if your husband doesn't get you one of these, you're a loser wife or something), the options are hardly limitless. Check it out:

Juicy Couture ($48), too gold for my taste.

JC Penney ($69), too…shiny.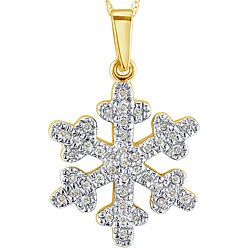 Overstock.com, ($119), I'm sorry, this seriously looks like a Nazi war medal to me, like something one of the guys in an Indiana Jones movie would wear.

Heavenly Treasures ($399), there is something too symmetrical about this one.

Sam's Club ($1,999) I saw this one for $399 in an ad in Us Weekly, so I think Sam's Club is trying to rip me off.

Tiffany's ($2,200), this one is too modern looking.

Harry Winston. OH MY GOD THIS ONE IS TOTALLY PERFECT!!!
So since the Harry Winston snowflake necklace didn't have a price on it online, I made HWSNBNITB call Harry Winston in NYC to find out how much it was (I was too shy/embarrassed).
The conversation went like this: "$30,000? Yes, I'm totally interested, please send me the information." Then HWSNBNITB put down the phone and was all, "I love you, but I am not buying you a $30,000 diamond snowflake necklace. You're still high on Aqua Dots from the hospital."
Do you know how many games of freerice.com I would have to play to ever feel good about myself again if I owned a $30,000 necklace? 1,000,000,000,000,000. And maybe not even then (because I suck at word games and I lose after like three rounds every time).
But I don't want that Juicy Couture one, either.
What I want is that Harry Winston necklace for $48. I mean, you can really tell that one is the best, right? Quality shows.
So someone needs to get to work on making an imitation Harry Winston snowflake necklace that sells for $48. That is what I want for Christmas.
It's what Mia really wants, too. But she's not getting one either…although I'm not done writing Book 10 yet, so who knows. Maybe, if she's very, very, very good….
I mean, she's a princess after all.

More later.
Much love,
Meg