Film Rights/Today Show/Readergirlz
Wow, things are exploding here in Meg Cabot world.
First off, yes, my dark auburn Clairol Nice 'n Easy Touch Up roots matched. Thanks for asking. That little brush it comes with is useless, though. You're much better off just getting down and dirty (like Nigella Lawson does with food. The new season of her show, Nigella Express, starts Sunday, Oct 7 at 10:30AM on Food Network), and massaging it in with your (gloved) fingers. And it only makes a tiny bit of dye so don't expect to do your whole head, just your part and maybe some of the hair along your forehead.

Anyway, we've optioned the film rights to Queen of Babble to a very serious producer who did, like, Nicholas Nickleby and Boys Don't Cry and Proof and stuff (don't worry, I asked him if he was sure he had the right book and he said he was and he went on about it so I'm pretty sure he actually read it).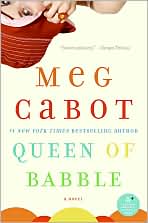 As if that weren't enough, film rights to The Mediator have been optioned as well, to the producer of The Spiderwick Chronicles and Lemony Snicket's A Series of Unfortunate Events. And we had a long talk about how hot Jesse is, so I feel confident she gets how important it is that whoever plays Jesse is, um, hot. Oh, yeah, and I'm, like, co-producing, or something, so I'll be completely involved.


One of the new covers, coming soon!
So on Monday, October 1, I'm going to be on the Today Show, talking about cliques and gossip with that lady who wrote that Queen Bee and Wannabes book Mean Girls was based on, so you should totally tune in or TiVo or DVR it because it is bound to be hilarious due to the fact that I will no doubt have no idea what I am doing. I will be on the 10 Hour, at 10:03AM10:30, EST, exactly, I am told.


Maybe I'll talk about how when I was in the seventh grade, all the mean popular girls would look down on you if you didn't wear designer jeans, so I rebelled and wore nothing but skirts for the whole year. So then all the mean girls spread a rumor that I was Amish.


That's me, on the left, hanging out with one of my homegirls. OK, not really. But that's what all the mean girls in my school wanted everyone to think.
But I am fine now since I got revenge in the end by writing bestselling books featuring those mean girls as the antagonists. Only not, according to my lawyers who'd like me not to say this on national TV.
Also on Monday, please stop by Readergirlz at 8PM EST to chat with me. The chat will be here. You must be a member of Myspace to chat. Proficiency chatting on Myspace also a plus. In fact, if you'd like to come over and help ME figure out how to chat on Myspace, it would be appreciated.
Speaking of gossip, it's confirmed, Kathy Griffin and Steve Wozniak are totally dating, he escorted her to the Emmy's, and he's even given her a ring, but it's not an engagement ring, just a "lovely gesture from a lovely man," Kathy is quoted as saying. I love it when older people find love, especially when it's love based on sense of humor and all around niceness. Especially when one of them is a bazillionaire and one of them is a redheaded stand up comic who says the F word a lot.
Meanwhile, how good were the season premieres of Ugly Betty and The Office? P.B. and J! I also loved Life, and I'll be watching Reaper along with the season premiere of House and all the other shows I missed…if only I could figure out how to work my Time Warner DVR, not to mention the universal remotes He Who Shall Not Be Named In This Blog installed in my NYC apt for reasons I cannot fathom (yes, I've brought Henrietta with me, and no, she neither pooed nor peed on me on the plane, for once, to the delight of myself, my fellow passengers, and the Federal Air Administration).
Basically between the DVR, the universal remotes, my Blackberry Pearl, and this Myspace thing, technology is thwarting me. THWARTING ME!
You know what I need?


Do you think they have ones that will move in? Just temporarily? I have a fold-out couch.
This is what I get for marrying a chef and not a geek.
Wish me luck on the Today Show, and see you at Readergirlz (if I can figure it out)!
More later.
Much love,
Meg