Important things you have written to tell me:
–That the message boards are down. I know. Janey is taking them down to give them an upgrade to prepare for the onslaught that occurs every summer when so many of my readers get out of school. Don't worry, your posts will be saved and they'll be up again by Monday, if not sooner, and yes, the chat we re-scheduled for tomorrow, this Saturday at 2PM EST here will still go on as planned.
–That my having scarring on my lungs from histoplasmosis, a disease I never even knew I had, makes me the Queen of Diseases (okay, only my friend Mellie the epidemiologist wrote to tell me that, and she only said it to make me feel better because she knew I was feeling sad about not having turned out to have sat next to the XDR-TB guy on any of the plane rides I've been on recently. The rest of you wrote to say you've had histoplasmosis, too. So I guess I'm not the Queen of Diseases after all).
–That Robin Hood is a smash hit (way more viewers than Jericho) and will be back on BBC America for a second season.
–That I will like North and South on DVD as much as I like Robin Hood.
–That the funny girl who lost a leg to cancer who writes to me is named Kati. Hi, Kati!
–That the Go Fug Yourself ladies gave Lily Allen a Well Played! Also, I have it on good authority that Lily Allen and Amy Winehouse are FRIENDS. I will never reveal my sources, but they are rock solid.
–That the whales that were in the San Francisco Bay are apparently fine.
–That the "kick ass" girl is cute, but the Dancing Cadet is cuter.
–That Mia Thermopolis acted like a big jerk in Princess Diaries 8. (I actually already know this. I believe Mia realized this herself at the end of the book.) Sadly, an important part of growing up is acting like a big jerk sometimes, then learning from that experience…which is what Book 9 is going to be all about. The truth is, Mia acted like SUCH a jerk at times in Book 8, it may take her more than one book to deal with the repercussions of her jerkiness. Because sometimes in life, it takes more than one book to resolve things…if people will even forgive you for your jerky behavior at all, I mean.
In other news, He Who Shall Not Be Named In This Blog's eye is FINE and I no longer have to put ointment in it. Thank you for your concern. Instead, I am working on revisions for the first book in my new middle grade series, ALLIE FINKLE'S RULES FOR GIRLS. The first book is called MOVING DAY, in which Allie and her family—you guessed it—move, and she has to start a new school, which, if you'll remember from when you were 9, is very traumatic for her.
I love being a writer, but I really hate doing revisions, which in case you don't know, means rewriting stuff you already wrote and turned in because you thought it was FINE. As many of you have pointed out (including my mom), being a writer is like having homework ALL THE TIME.
In the meantime, although there's nothing on TV (except The Starter Wife…not bad) until the new season of Kathy Griffin My Life on the D List comes back June 5, we've got plenty with which to entertain ourselves: although the message boards will be down this weekend (but don't forget the live chat!) be on the look out for this newly released anthology, which is in stores now: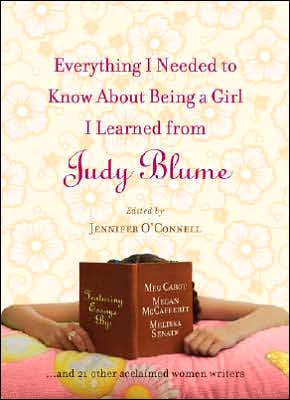 It includes essays on how Judy Blume helped shape our lives by authors such as myself, Megan McCafferty, Megan Crane (so many Meggins), Stephanie Lessing, Kayla Perrin, Melissa Senate, Laura Caldwell and many many more….
It's weird because Judy Blume lives for part of the year here in Key West and I see her occasionally —I even had Christmas dinner at her house this year (He Who Shall Not Be Named In This Blog wasn't there because once again he was felled by a home disaster, only this time it was in the form of a noro-virus, which he caught from some evil cruise ship passenger who brought it on shore—much like XDR-TB. You might think it was wrong of me to leave my barfing husband at home on Christmas Day to have dinner at Judy Blume's house. But the truth was, he'd made a bunch of the side dishes for the dinner in advance, and if I hadn't brought them, Judy and her family and the rest of her guests would have had to go without side dishes. On Christmas Day. Which would have been so wrong. So really, I was doing the right thing. Besides, he told me to go. And I left lots of cans of ginger ale by the side of the bed for him. So he was fine. Really)–I don't know if I ever even mentioned I was writing this essay to Judy. I know for certain I've never told her the things I wrote about in my essay for this book (like how Blubber is my favorite book of hers).
So, if you read this book, you will know more about my feelings about Judy Blume's work than Judy Blume does. And chances are, I've never even had Christmas dinner at your house. How messed up is that?
Have a good weekend…and I hope I cyber see you at the chat tomorrow!
More later.
Much love,
Meg