Pants on Fire Tour Day 9 and 10…HOME!
Well…I made it (almost…I'm writing this from my hotel room in Chicago, where I'm about to leave to catch a plane back to Miami, and from there, a plane home to Key West). I'm just hours away from being done with my Pants on Fire tour!
And thanks to all of you, Pants on Fire is still on the New York Times Children's Chapter Bestseller List (it was #7 last week, and is #8 this week). You guys rule!
I had so much fun in Fairfield, where I was feted and gifted nearly to death. Many thanks to Marissa for the lovely note and to Megin (yes! Spelled just like my name except minus one G) for the decadent basket from Lindt:


(No, I have no idea who that man in the background is!)
And of course thanks to the wonderful Borders staff who set up a whole green room for me that I barely got to enjoy because we arrived so late (thanks, traffic on 95!) but those cookies (and cheese dip) were delicious on the way home!
And I think Gregory Middle School in Naperville, IL might have held one of the most creative events I have ever been to in a school—an all girl slumber party! In the library! DURING SCHOOL! All the girls who came brought their sleeping bags and put on their pajamas and I got to sit on a big throne and we talked about writing (and, okay, full disclosure…kissing) and afterwards we ate cake and I signed books. It was way literary!
I bet Salman Rushdie and writers like that NEVER get to do events like the one I did at Gregory Middle School. Ha ha, suckas! You get fatwahs, I get cake! And now I'm an official Gregory Pioneer:

Later that night at Andersons, the most fantastic bookstore in Illinois, I got to meet tons of great readers, including Marie, the coolest piano teacher in Naperville, who gifted me with these stretchy hand-knitted slippers that are sooo comfortable (and protect your feet from germy hotel room carpets) for which I cannot thank her enough:


And later I got this totally rad drawing of Rob and Jess from the 1-800-Where-R-U series from Adrienne:


I also got (and I hope I get this right, the night was kind of a blur, it went so fast): Nutella from Danielle, a fantastic shirt from Jessica, a hilarious card and lovely candle from Kristina and Anya, the cutest cat toys for Henrietta and Slutty from Cindy, and funny book worms from a nice lady whose name I didn't catch, but they are so cute!
As if my readers haven't been nice enough, here are some of the lovely things the press—who have also been super nice to me–has had to say about me and Pants on Fire:
Click 'n Enjoy
Dear Author on My First Sale
The Indianapolis Star
The St. Petersburg Times
The New York Journal News
The Daily Herald
Meanwhile, outside of the tour, life has gone on (I know, it seems hard to believe there IS a life outside of airports, hotel rooms, and Cheesecake Factory. But I am told it exists):
For instance, in Hungary, the Meg Cabot Fan Club (the word "fan," used in reference to readers, freaks me out…I prefer "reader," because that's what these people are. But that's what this club is called) met, and sent me these photos:


Just a few of my Hungarian Meg Cabot Fan Club members (and my Hungarian translator, Katalin):

Also, I've been reading—actual books! One of them, Grace (Eventually), by Anne Lamott, keeps making me cry. On airplanes. I keep hoping I will see Anne one of these days in the airport, also on tour, so I could go up to her and thank her personally for making her cry (also get my book signed). I know she will be easy to recognize because she looks like this: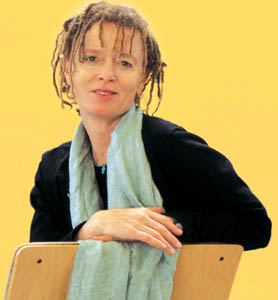 Anne gets flack from some people for being a feminist and a Christian. Which is weird because it seems obvious to me that if Jesus were alive today, He'd so be a feminist.
I know everyone was worried about author Jennifer Weiner's personal emergency that kept her from appearing at the Kansas City Literary Festival. But she's finally posted on her blog that she's OK. As a hypochondriac, I am of course simultaneously fascinated and horrified by her description of what she has as being both gross and funny, and wonder if and when I'm going to get it, whatever it is (or if I've already had it…judging from her description, I think so). In any case, I know we all wish her a speedy recovery, and lots of cyber carbs.
More Is It Weird….
Is it weird…that I feel as though I have found my people? How could they have cancelled Jericho? I was totally using this show as my fieldguide to surviving the apocalypse. Also, it is just about the only show on television where the teenagers behaved in a responsible manner—starting their own business and ruthlessly blackmailing the local politicians instead of doing what I would have done under the circumstances—looting the mall. Not to mention, how great was Mimi the IRS agent who was stranded in Jericho when the bombs went off? How awesome was that scene where she had to kill the chicken but found she couldn't do it…then finally craved McNuggets so badly, she did? Oh, yes, I signed your petition. My nuts will be mailed to CBS shortly.
Is it weird…that in the ongoing cat fight between British songstresses Lilly Allen and Amy Winehouse, I am solidly on Lilly Allen's side, even though I really like Amy Winehouse's song Rehab? I don't even know who Cheryl Tweedy is, but she sounds mean.
Is it weird…that I know Lilly Allen's dad plays the Sheriff of Nottingham on BBC America's Robin Hood (but that isn't why I like her)?
Is it weird…that, speaking of Robin Hood, I like Sir Guy so much that I fast forward through every episode until I get to the parts with him in them, and watch them first?
If you don't hate Drake (NOT Drake Bell…the Drake from the hilarious true diary collection Mortified) already, you need to watch this. Warning: There is some strong language. But Drake SO deserves it.
I know you've all seen this but it still makes me laugh every time, and it IS Friday, after all.
OK, my car is coming to take me to the plane that will take me to the OTHER plane that will hopefully take me home. You all have been swell, I can't thank you enough, and now…I need to watch some TV.
More later.
Much love,
Meg