Practice Test
Okay, maybe it's just me, but considering all of the really bad drivers on the roads, I always thought it must be pretty easy to get a driver's license.
In Indiana when I first applied for (and received) my learner's permit (and okay, that was seventeen years ago, but whatever), the test seemed reasonably fair. An example of one of the questions I remember:
An octagonal sign with the word STOP written on it means you should:
A. Speed up.
B. Slow down.
C. Stop.
D. All of the above
This seems like a good question to me. Not too easy, but not too hard either. And very much applicable to ALL drivers.
Well, either the state of Florida has a different agenda than the state of Indiana when it comes to allowing their citizens to drive legally, or something appears to have changed drastically since I let my learner's permit lapse, and recently decided to get a new one so I can finally get an actual license (a necessity due to the fact that I want a pink Mini Cooper convertible very badly and He Who Shall Not Be Named In This Blog refuses to drive one, particularly if it has the vanity plate I want, PRNCSS, which means I will just have to drive it myself).
Well, that Mini Cooper may have to wait a while. Because I can't seem to pass any of my practice tests for my learner's permit. Would you like to know why? Well, here is a sample question from one:
The maximum allowable heights between the pavement and bottom of the front and rear bumper, provided by section 316.251, Florida Statutes, for trucks __________ pounds or more but not more than 5,000 pounds are 28 inches front and 30 inches rear.
A. 4,000
B. 3,500
C. 3,250
D. 3,000
Um. Hello. WHAT????
WHY DO I NEED TO KNOW THIS???? I can guarantee the State of Florida Department of Motor Vehicles that I am never going to own a truck. And that however many inches off the ground my bumpers are when I purchase my car (new and straight from the Mini Cooper factory), they are going to stay that way. No one has to worry about me messing with my bumpers.
And yeah, sure, I know all the cool kids are doing it, but you know what? I know how not to succumb to peer pressure. Do you know why? BECAUSE THE STATE OF FLORIDA DEPARTMENT OF MOTOR VEHICLES TAUGHT ME HOW WHEN THEY MADE ME TAKE THAT FOUR HOUR DRUG AND ALCOHOL AWARENESS COURSE IN ORDER TO APPLY FOR MY LEARNER'S PERMIT IN THE FIRST PLACE.
And here's another thing. This question?
27. When towing a load at night, or when you cannot see at least __________ feet ahead, the following markers must be used: -Two red lamps, one on each side of the load, which can be seen.
A. 1,250
B. 1,000
C. 750
D. 500
This question is RIDICULOUS. Because if there ever comes a time when I am "towing a load at night," it will only be after the quickening, when what few survivors of the apocalypse that remain on this planet are trying to band together against the flesh-eating zombies who hibernate in the evening hours and feed during the day. In which case, I will not NEED TO USE TWO RED LAMPS TO WARN MY FELLOW DRIVERS ABOUT MY LOAD OF FORAGED FOOD, BECAUSE THERE WILL BE NO ONE ON THE ROADS BUT ME!!!!
Check out this snippet I copied from the State of Florida DMV Drug and Alcohol Awareness course: (which I passed by the way, with an 82%–a score that would have been higher if they hadn't thrown in that trick question about leaving your kids locked inside a car. How am I supposed to know that if the temperature outside is 94 degrees, the inside of a car could be __________ degrees after an hour.
A. 122
B. 132
C. 142
D. 152?
Seriously, that is like a MATH question. There wasn't supposed to be MATH on the test.
Also, who even CARES how hot it is inside the car? YOU AREN'T SUPPOSED TO LEAVE YOUR KIDS LOCKED INSIDE A CAR AT ANY TEMPERATURE!!!
Although this would have been a good question for my parents–and the parents of my contemporaries–whom I distinctly recall telling us to go sit in the car MANY MANY times while making good on their "If You Kids Don't Stop Throwing Packets of Sweet 'N Low At Each Other, You'll Have To Go Sit In The Car" threat during after-church brunch at the Big Red Huddle.
And granted, I seem to remember all of the parents letting us kids roll the windows down so we could smell the delicious scent of the maple syrup they were pouring over their pancakes while we "Thought About What We Had Done." But still).
Where was I? Oh, yes. Back to the snippet. I lifted this text VERBATIM off the DOFDMV's Drug and Alcohol Awareness course. Tell me, does something seem—I don't know—slightly WRONG in the following paragraph?
So much stress and anger can cause the worst form of aggressive driving, ROAD RAGE. This is where people get out of their cars and hit the other person. You see this on the news all the time. You don't know if that other person has a gun or other kind of weapon. So if you're going to get into a contest with them flipping them off and cursing at them and telling them to get on the side of the road. You better watch out. There are so many cases of ROAD RAGE. There were two people who pulled to the side of the road and were yelling at each other. One of the people pulled out a gun and started shooting. This could be you.
Seriously, I can't even begin to count the grammatical errors in this paragraph. How about with just this sentence: So if you're going to get into a contest with them flipping them off and cursing at them and telling them to get on the side of the road. You better watch out.
Is it me, or is there too much punctuation in those two sentences? Or maybe some punctuation missing? Also some verbs? And maybe some nouns?
Seriously, whoever wrote that paragraph above, I bet it was the same person who came up with this graphic from the course showing us what will (ALLEGEDLY) happen to us if we ever smoke marijuana:
Which is what I suspect the person who wrote the above paragraph was doing when he or she wrote it. Especially since this graphic came accompanied with an EXACT DESCRIPTION OF HOW TO MAKE A BLUNT.
Which finally explains why this kid is so happy: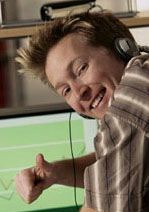 Sigh. Off to read my driver's manual. Even though it is sooooo boring…it has no dialogue or romance. Seriously, it's like reading a Tom Clancy novel.
I had no idea this is what all you drivers had to go through. I'm so sorry.
More later.
Much love,
Meg
PS I hope the State of Florida Department of Motor Vehicles doesn't read this blog.