VROOOM
CHAT!!!!
On Sunday, October 8, at 2PM, Eastern Standard Time, I will be chatting with author Rachel Vail about her new book, YOU, MAYBE right here at the Meg Cabot Book Club! Be sure to join us! You don't even have to have read the book to come—anyone with questions about writing, other books of mine or Rachel's, or even just about life in general is welcome to attend.
OK, now that that is out of the way, next order of business: HAPPY BIRTHDAY HE WHO SHALL NOT BE NAMED IN THIS BLOG (and happy birthday to Michael—yes, the REAL Michael—and to our neighbor, the contessa, as well).
And don't worry, none of you are getting older…you're just getting better. TO THE KING!
Well, that was QUITE a long book tour, and I am still exhausted from it all (as you might have noticed by the scanty blogging). I have been sleeping every day until eleven, and still have quite a lot of television to catch up with, and my pile of mail is literally three feet tall. Not to mention the whole thing where I have to write books. Sigh.
But I had such a nice time at ALL my signings…and also in Vero Beach and Miami. Many thanks to the Vero Beach Children's Book Center, as well as to Valentine for the adorable stuffed panda, and Jeanette for the sweet letter (and magnets!).
Many thanks as well to Books and Books for another fantastic signing (how mad was I that JULIE AND JULIA author Julie Powell was going to be signing at the exact same store a few hours after I left if???) and to Chelsea (aka Miamoscovitz) for the much needed TaB, Erika for the sweet letter, and to the talented 12 year old manga artist as well (I do have your drawing, but it is carefully preserved somewhere in the three foot pile…)
It was strange but sweet to be home after a twenty-five day absence. But no one else seemed as traumatized by the length of my trip as I was. I swear Henrietta is becoming so well adjusted she barely noticed I was gone. Slutty McSlut-A-Lot barely gave me a bite hello.
Meanwhile, I had a revelation while I was gone. I usually have at least one epiphany on tour, though often it's about a book I need to write, or that I need to start working out more.
This time my epiphany was quite different. This time, my epiphany was that I really, really need to get my driver's license before I turn forty.
I know. Look, I always meant to get a driver's license–and I've had, for the past seventeen years, an Indiana state learner's permit. I just never got around to getting the actual license, due to having moved to Manhattan promptly after getting the permit, and then having married someone who likes to drive, and then not feeling confident enough because it had been so long, and then not wanting to crash my Sebring, et cetera et cetera.
But all of that is going to change, as of now. Because first thing Monday morning, I went to the DMV to get my license…only to learn that in the state of Florida if you want a driver's license, you must take a four hour alcohol and drug awareness course at the Marriott in Kissimee (well, I suppose they offer the course other places, but this was the only one scheduled for this weekend within a five hundred radius of my home)!
But hey, whatever. If this is the price you must pay to drive in the great state of Florida, I am willing to go with it.
I was actually looking forward to hanging out with the other fifteen year olds in Kissimee. I figured we'd have a GREAT time. Some of my classmates (according to the website):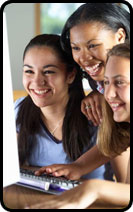 And you know they'd totally like me and want to hang out with me in the lobby during our breaks, because who WOULDN'T want to hang out with a thirty-nine and a half year old first time driver with Judge Judy's hair who only drinks TaB?
Yeah, okay. Maybe not. So maybe it's just as well I realized I'm just too tired of traveling to go to Kissimee this Saturday.
That's when I found out you can take the course online! This kid here did it: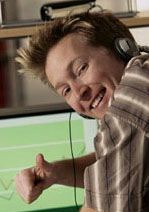 And you can tell he had a TOTALLY good time!
Actually, this picture sort of makes me want to punch this kid in the face.
Still, even though I was wildly misled about how fun this course is (I have no idea why the kid in that photo is smiling. This course is NOT funny at ALL), I'm taking the course RIGHT NOW. Yes, right now, as I write this (you are allowed to log on and off at will. They do however ask high level security questions to make sure you are you and not someone you paid to take the course for you.).
I must say, I'm finding out all sorts of fascinating things. Did you know, for instance, that:
Your chances of being involved in a car crash is 1 in 25, not really good odds. Your chances of being in a plane crash is 1 in 15,000,000, and most people are afraid to fly. You should be afraid to drive. You should take precautionary steps to avoid becoming just another statistic.
?
And taking precautionary steps to avoid becoming just another statistic is precisely what I am doing! I am on Chapter Two, Physiological Factors That Can Impede Your Ability To Drive. I don't want to brag, but we have already had two quizzes, and I passed both.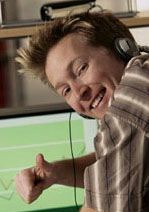 Yeah, baby! I am so close to cruisin' in my own pink Mini Cooper convertible (my reward if I actually pass my driving exam) I can't STAND IT.
The only thing in my way is the rest of the course. Oh, and the whole driving part. I'll keep you posted on how that goes.
In the meantime, don't forget to come chat with me (and Rachel Vail) this Sunday! The October Book Club Pick will be revealed…and who knows? Maybe there'll be some other revelations as well!
See you then….
More later.
Much love,
Meg