WHEN AUTHORS LOSE THEIR MINDS
Let's face it. Sometimes authors go insane.
I'm not feeling particularly sane at the moment because I just finished writing a book and it was super intense and I didn't go out for like three weeks straight and now I feel like one of those mole people I made up when this producer at ALL MY CHILDREN asked me for ideas to perk up their teen plot lines so AMC could compete with PASSIONS (as if) and I invented this race of mole people who lived beneath Pine Valley and the king of the mole people was in love with Erica's daughter Bianca (this was before Bianca turned out to be a lesbian) but it was okay because he was hot even though all he owned was a pair of jeans and a leather jacket, no shirts. Or maybe he was hot BEACAUSE of that.
Except for some reason the ALL MY CHILDREN people didn't like that story line and never actually bought it, and decided to go with the lesbian thing instead.
Hmmmm…hot king of the mole people…Erica's daughter is a lesbian…hot king of the mole people…Erica's daughter is a lesbian…both good…but in such different ways.
Anyway, so that's how I feel right now, like one of those mole people that lived beneath Pine Valley, which is good because I have to go on a book tour starting this week.
YES!!! FANTASTIC!!!! MOLE PERSON ON DISPLAY!!!
I hope this admission won't stop you from coming out to see me if I'm coming to your town. Check here to see when and if I am coming (if the page is not updated to reflected my new tour yet, it should be sometime soon).
If you want to know what it feels like to be a mole person, or at least an author who just finished a book and is just coming out of her house for the first time in weeks, pop over to author Maureen Johnson's blog, because she gives a great rundown on what I've been through for the past few weeks here.
And if I'm not coming to your town, never fear, you can still partake of the mole observation by watching me on my television satellite tour of news shows on Thursday, September 7 at the approximate times (all times are Eastern Standard. If the show is on in a place that is not EST, apply local time to listed time. Listed time is the time I'm to be in the studio in New York doing the tour. Also, not all shows are live. Sorry, I don't have a schedule of when my taped segments will appear, but I'm sure if you call the news studio they will tell you, that's what my grandma always does and it seems to work for her):
7:20-7:26 AM CHICAGO, IL WLS/ABC MORNING NEWS LIVE
7:35-7:40 AM CHARLOTTE, NC WCCB/FOX MORNING NEWS LIVE
8:30-8:35 AM NEW YORK CITY WNYE/PBS KIDS NEWS TAPE
8:45-8:50 AM GREENSBORO, NC WGHP/FOX MORNING NEWS LIVE
9:00-9:05 AM DENVER, CO KUSA/NBC MORNING NEWS TAPE
9:30-9:40 AM REGIONAL-northeast CN8 YOUR MORNING LIVE
airs on the CN8 network which airs in New England (Boston, New Hampshire) and MidAtlantic states (Philadelphia, Baltimore, NJ andVA)
9:40-9:50 AM NASHVILLE, TN WLLP/IND EVENING NEWS TAPE
9:54-10:00 AM DENVER, CO KWGN/WB MORNING NEWS LIVE
10:00-10:10 AM HUNTSVILLE, AL WYAM/IND VALLEY HAPPENING TAPE
10:15-10:20 AM BALTIMORE, MD WBFF/FOX MORNING NEWS TAPE
10:20-10:25 AM BIRMINGHAM, AL WBRC/FOX GOOD DAY ALABAMA TAPE
10:35-10:40 AM PORTLAND, OR KOIN/CBS GOOD MORNING NORTHWEST TAPE
10:45-10:50 AM PHOENIX, AZ KTVK/IND MORNING NEW LIVE
11:12-11:17 AM SAN DIEGO, CA KUSI/IND MORNING NEWS LIVE
A television satellite tour is when you, the author, sit in a television studio, generally in New York, and different news shows from across the country beam in and talk to you about your book, so you don't actually have to go to all the individual news stations yourself. It's fun! Especially if you are a mole person. Plus there is the added benefit of the fact that you get to get up at like 4 in the morning to do it!
Meanwhile, at least I can rest easy in the knowledge that I am not the first—nor will I be the last—author to go insane. At least my insanity does not stretch (so far) to my writing. You all know what I'm talking about. You have a favorite author who can always be depended on to deliver a solid read, and you're excited to learn that author has a new release, and you rush to the bookstore to buy it, and you set aside a whole afternoon to read it, and….
It stinks. It's like it was written by someone else. Maybe it's part of a series and the characters you've come to love act completely differently than they have in previous books. Or maybe the author decides to go in a different direction, and instead of being comically snarky, becomes intolerably preachy…something like that.
No one knows why this happens, but it does. I think all authors are entitled to a bad book (or two. Hopefully not in a row). And often, authors who have gone offtrack do eventually get back on it (I had a long example here about one of my fave writers who did this but then I started thinking, What if someday I get seated next to him or her at a dinner party or sales conference or something and he or she has read this and hates me? So I deleted it.).
Honestly, I hope the same can be said of author Helen Fielding, about whose latest Bridget Jones book I know nothing, as it was serialized in a newspaper to which I do not subscribe. However, if the rumors (and this article, which you should not click on if you don't want Bridget Jones spoilers) are to be believed, the saga of Bridget Jones has a MOST unsatisfactory ending!
As I did not read the story in which this heinous act against the laws of nature and romance occur, perhaps it is possible that the repellant character mentioned as getting the girl (or at least getting the sperm into the egg) redeems himself in some way to be worthy of this honor. But personally, wouldn't this be something like Hermione giving birth to Draco's baby? I mean…ew!
I know you should always reserve judgment until you've actually read the book, which is supposedly going to be released next year. But this is smacking a bit of Author Gone Insane, and frankly, I'm just not sure I can bear it! I hope someone who has read Bridget Jones 3 will email me to assure me that it turns out all right, because I have my doubts, I have to say. It would take some very tricky writing to make that particular ending at all satisfying to me (I still haven't quite gotten over the pig sty thing in the beginning of the movie of Bridget Jones 2…I mean, king of the mole people? That is one thing. A pig sty? Quite another) and for that reason alone have never been able to sit through the entire movie, though I enjoyed the book.
There is hope, however: Ms. Fielding could refresh her knowledge of the genre she is often touted as having invented by reading this: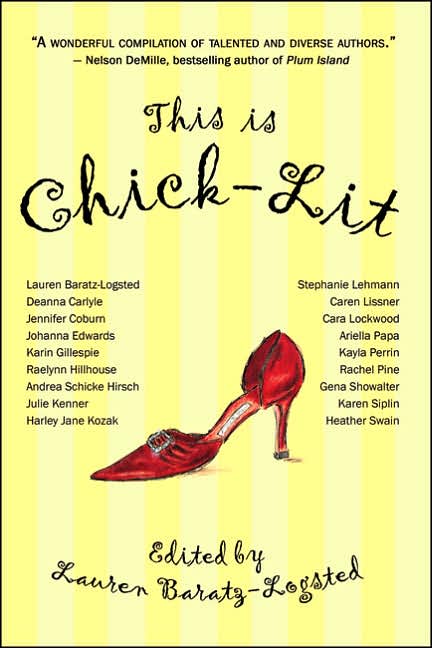 And this:


before Bridget Jones 3 is released in book format. If tweaked accordingly, so that readers like myself do not have to suffer through another case of When Authors Lose Their Minds, it might just work out.
Well, that's all I have time for now, I have to go pack for my mole expedition. So see you all out there. If I blink at you but don't actually seem
to see you it's because I've been staring at this screen for so long I forgot what actual humans look like.
More later.
Much love,
Meg